« My American States: Dudes, Where's My Merit-Based Judge Selection? | Main | Hermann the German: Tucson, Guns and Sarah Palin. »
January 17, 2011
Martin Luther King Day: BR #294 by A Public Defender, "Gideon".
The bright and way feisty if thin-skinned anonymous young guy "Gideon", who writes the fine A Public Defender, has a very first-rate BR #294 you can see right here. Class Factor: High. Lots. Humor: Much. Forced PC Compliance: None. Gooey Hallmark MLK Stuff for People Not Alive in 1968: Mercifully Virtually None. Blawg Review is now in its 6th year. Well done. And well done.
If King has not been killed, he would have turned 82, two days ago, on the 15th.
Eighty-two is the same age as my own father, who told me about it at the time, and who is still very much alive and thriving. My Dad was then 39. I remember exactly where I was when I was told, and what time of the day it was. Although my father was and is no liberal, he--like everyone sane and decent--grieved over what had happened.
For months and months, even in most southern Ohio, the balcony stills of that Memphis hotel were etched in the minds of anyone old enough to read and watch television. We had all been through this kind of thing before, in 1963, in Dallas. And later in 1968, and just 8 weeks later, it would happen again, at a Los Angeles hotel.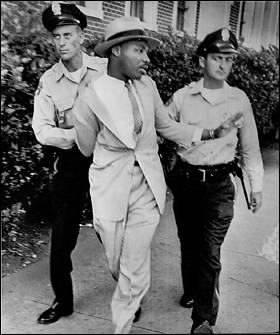 Montgomery, Alabama, September 4, 1958. King was 28.
Posted by JD Hull at January 17, 2011 12:58 AM
Comments
Post a comment
Thanks for signing in, . Now you can comment. (sign out)
(If you haven't left a comment here before, you may need to be approved by the site owner before your comment will appear. Until then, it won't appear on the entry. Thanks for waiting.)