« Redux - Prof. Bruce Antkowiak: "Why Law Schools Must Reform". | Main | An incomplete person. A negligent citizen. And a drag to have around. »
May 12, 2011
Challenges, twists, prima donnas--and hard work.
I should never have switched from Scotch to Martinis. --Humphrey Bogart
You think life in law and business is hard? What if all your partners were grandiose, spoiled, drunk, or poised to shoot a wild animal every morning before work? Okay, you say it's a lot like that now. Well, making John Huston's The African Queen was no summer picnic, either. To get a better idea of the kind of talent and guts it takes to make it as a writer or producer in Hollywood, visit Neely Swanson's No Meaner Place: Hollywood writing, ups, downs, more downs, productions, persistence and dreams.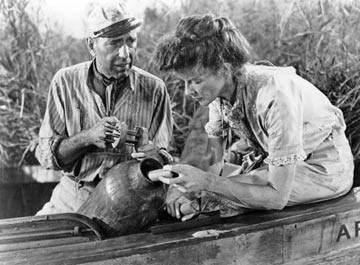 (updated from April 24, 2010 post)
Posted by Holden Oliver (Kitzbühel Desk) at May 12, 2011 11:59 PM
Comments
Post a comment
Thanks for signing in, . Now you can comment. (sign out)
(If you haven't left a comment here before, you may need to be approved by the site owner before your comment will appear. Until then, it won't appear on the entry. Thanks for waiting.)