« Churchill in Paris | Main | Legal Intelligencer: "Exploring Early Settlements: Sign of Weakness or Ethical Duty?" »
July 10, 2011
111 Cannon Street: Another Quick Night Stagger to the London Stone.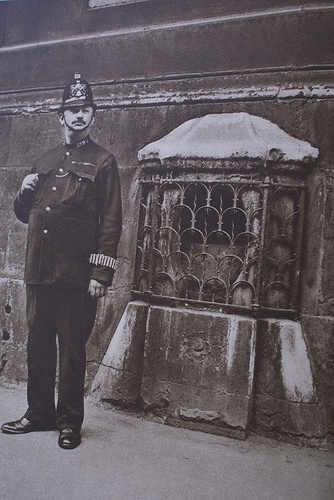 I like old books, old homes, old anythings; however, to really qualify, they need to be the colorless relics of my cruel, greedy, war-like, goofy-looking European ancestors. Sorry. You can rat me out to the Oberlin College faculty.
After finishing up at Stanford Law three years ago, our man Holden Oliver--now Austria's favorite off-piste husband and doting-dad-in-public--was over-served at a new venue in Legal London, and ran completely amok. For no reason he got dressed up like an early 20th century Bobby. He rested, and had some pictures taken. He made noises like a raccoon for a while. Then he headed east on foot.
He poses above in 2008 before the mysterious London Stone on Cannon Street.
Three years earlier, I had taken him there late at night. But finding the Stone is not hard on your first solo quest--even for a weaving American binge whiskey drinker who has come apart earlier on High Holborn a week away from his Salzburg wedding.
Like Holden, you just head south to Fleet Street, and then head east until you get there: past Dr. Johnson's house a bit north, and past St. Paul's, until Fleet becomes Ludgate Hill, which becomes Cannon Street, to 111 Cannon, across from the tube station.
The Stone. You'll miss It if you're not careful.
You may give an oath to It if you like. Make a wish. Maybe lay a curse on someone.
I have a thing about The London Stone--probably because I live much of the time in California in an "old" 24-year-old home. Back East (and even in the Midwest where I did most of my growing up), there's much older stuff, of course.
Sometimes in more civilized regions of America--generally on the east coast--a house, street or grave will date back to the 1600s. But it's nothing like you stumble upon at every turn at every moment in London. In America, out West, and very close to my home in California, you can see rock and cave paintings. In the American Midwest and South, there are mound-builder mounds and other antiquities.
But these don't cut it for me. I like old books, old homes, old anythings; however, they need to be the relics of my cruel, greedy, goofy-looking European ancestors. I am sorry. Do feel free to alert the Oberlin College faculty, and the U.S. Bureau of Indian Affairs. Maybe Nina Totenberg.
The London Stone is important to me because it's mysterious and fires the imagination--not because it's way old. There's a myth that the Stone was part of an altar built by Brutus of Troy, the legendary founder of London. Not true in any respect. But the Stone is Olde, older than Boudica, Tacitus, Disraeli or Keith Richards, and at the very minimum, an enduring symbol of the Authority of The City since London Roman times.
So we're talking about at least 2000 years of Stoneness. Some scholars think 3000 years.
My guess: it's been a human mile marker, altar and/or symbol of London for about 2200 years--even before the brilliant Roman cad Julius Caesar blew into Britain in 54 BC and again the following year as a military pretext to further his political ambitions.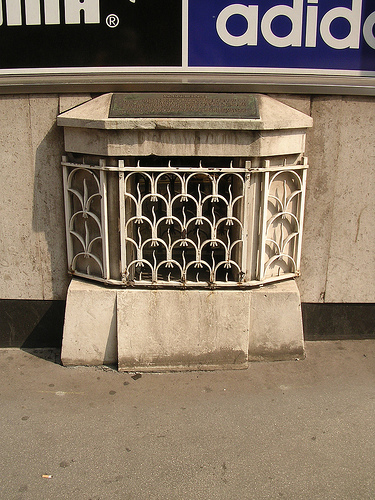 Posted by JD Hull at July 10, 2011 11:59 PM
Comments
Post a comment