« City of Gods. | Main | Here's to you, Self-Esteem Movement: Please stay in your coffin. »
October 09, 2011
Cicero, the First Trial Lawyer.
Nothing is more unpredictable than the mob, nothing more obscure than public opinion, nothing more deceptive than the whole political system.

-- Marcus Tullius Cicero (106 BC-43 BC), Pro Murena 36.
My grandfather was born in 1900. He died in 1988. I still miss him. He grew up in the Ozarks and, at a very young age, started taking degrees at the the University of Missouri, Chicago and Yale. He was at heart a schoolteacher. He also managed people, authored books and eventually became a government official in the Eisenhower and Kennedy administrations. He traveled extensively in his HEW position. He taught me things no one else in my family could teach. And he gave me the Great Books. This giving started after he had finished his career in Washington, D.C., and had returned to Springfield, Missouri. Most were written centuries ago, and lived in his library long before I was born. He seemed to love Cicero's known works as much as any of his books. Now, I have all those volumes. They are, to me, like parts of him--and like very old friends of his in my care who've finally agreed to live with me indefinitely.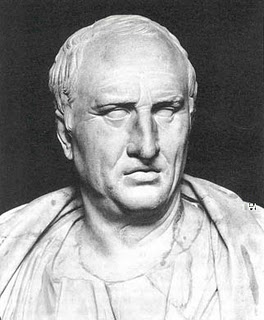 Posted by JD Hull at October 9, 2011 11:59 PM
Comments
Post a comment