« An Irish Guy Delivers the 2011 Dartmouth College Commencement Address. | Main | Work-Life Balance: Still a Spectacularly Misplaced, Poorly-Framed & Dumb-Ass Idea. »
November 04, 2011
My Alexandria, Virginia: Old Town's Christ Church.
Apart from women who take care of themselves, lawyers who read more than CLE catalogues and a sizable part of the populace who have traveled to places other than King's Island or Lake Erie, the Washington, D.C. area offers Something Else. It does "old" quite well--and even keeps what few authentic American antiquities there are in this country open to the public and open at night. And that is happening more and more; fewer places are locked up after dark.
I lived in Alexandria--including Old Town, which was part of the District of Columbia from 1791 to 1846--as a student, as an employee of Congress and as a young lawyer. Last night I missed a plane back to California. But I did get the churchyard of Christ Church (completed in 1773) to myself for an hour before heading back to my new and suddenly-acquired hotel on N. Alfred and King streets. Rather than go back into DC, I decided to visit the old neighborhood, at least for a night. I am actually glad this morning that I missed last night's plane.
It was about 11 PM when I got to Christ Church, about 3 blocks from the hotel. I sat on a stone bench. No one, of course, could have come away with a still picture, a video or a soundtrack which captures the grounds, the garden lighting, the occasional faraway noises of a great city finally quieting down, the smells of a fall night, the ancient trees, the white alley cat who adopted me, a very old graveyard that fairly whispers to you, and exterior walls of the ghostly stone sanctuary in which Washington and Robert E. Lee spent quite a few Sundays, and in which even Roosevelt and Churchill prayed together in 1942. You need to go there and sense these things for yourself.
If you don't travel for work, I feel a bit sorry for you. If you do travel regularly, mix it every day/night with something authentic and inspiring from wherever you are and whether or not you are alone. Stretch the day out more. Go to bed later. You may not get back there for a good while. You know what I mean?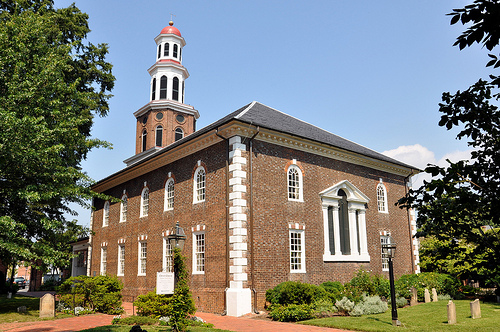 Posted by JD Hull at November 4, 2011 11:59 PM
Comments
Post a comment
Thanks for signing in, . Now you can comment. (sign out)
(If you haven't left a comment here before, you may need to be approved by the site owner before your comment will appear. Until then, it won't appear on the entry. Thanks for waiting.)