« Scott Greenfield: On Bullying, Cyber-Bullying and Real Life. | Main | Congratulations to the ABA Journal Blawg 100 Winners. »
December 01, 2011
Breaking law firm news: "It's about you--not about us..."
On Sunday night I was at once encouraged and amused to see at Reagan National Airport (DCA) a corridor advertisement placed by an American law firm with a bold, triumphant and "innovative" reminder. Apparently addressed to Prospective Clients Everywhere, the ad proclaimed, in effect, that Clients, Not Lawyers, are the Main Event, i.e., "hey, we're your friends--we're not like the others". Well, bravo to that firm. But should it take centuries for the legal profession to catch on that lawyering is never about lawyers? Why a reminder about the most basic fact of the profession? Our Roman friend Cicero argued his first case on behalf of a charge or "client" over 2,000 years ago. Are we ever going to get it?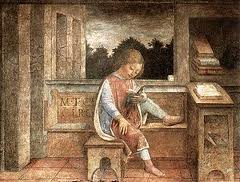 "Young Cicero Reading", Vincenzo Foppa (1464).

Posted by JD Hull at December 1, 2011 03:38 PM
Comments
Post a comment
Thanks for signing in, . Now you can comment. (sign out)
(If you haven't left a comment here before, you may need to be approved by the site owner before your comment will appear. Until then, it won't appear on the entry. Thanks for waiting.)