« Is law developing to make Gaming the Net actionable? | Main | Property Rights Dissipate in Keystone State: "Police Dude, where's my marijuana?" »
December 12, 2011
Fear and Loathing on Russian Facebook.
More Big Ones from Mom-and-Pop Russia. Here's a headline you don't see every day. See at MSNBC "Angry Facebook Backlash After Medvedev Announces Russia Election Inquiry". Dang. Excerpt:
He [President Medvedev] announced the inquiry on Facebook--the same site used by organizers of mass rallies in Moscow and St. Petersburg on Saturday--that called for the elections to be annulled and rerun. The protests were Russia's biggest opposition rallies since Putin rose to power in 1999.

Within hours, Medvedev received one insult after another on the social media website from people who made clear his response to the demonstrations was insufficient.

NBC correspondent Stephanie Gosk said the majority of the 12,000 comments were negative – a remarkable act of open defiance in a country where political activists are jailed and hostility to the government would have been unusual only a few weeks ago.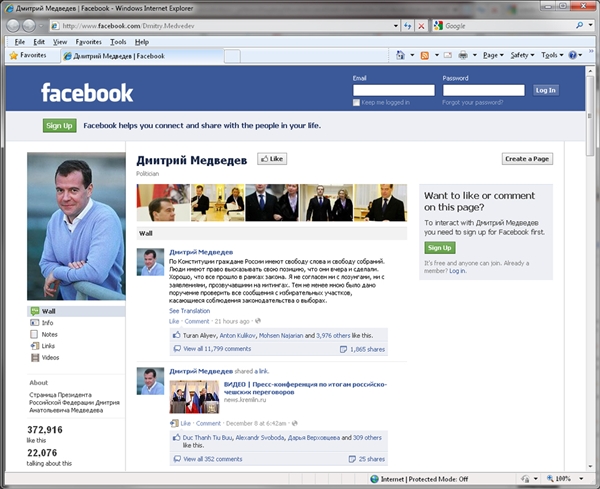 Posted by JD Hull at December 12, 2011 11:59 PM
Comments
Post a comment
Thanks for signing in, . Now you can comment. (sign out)
(If you haven't left a comment here before, you may need to be approved by the site owner before your comment will appear. Until then, it won't appear on the entry. Thanks for waiting.)