« Lower Manhattan's Trinity Church has a "Solidarity" Problem. | Main | Beyond E-Mail, Social Media and Buying: So what happens if The Net follows you around and becomes your new bud? »
December 18, 2011
Rule Nine: Learn to play the Kazoo?
In our irritating but enduring and spot-on 12 Rules, Rule Nine is "Be There For Clients--24/7". It's not about the lawyers. Not ever. It's the deal you made long ago. A privilege with strings attached. If you want a lawyer's life on your terms, consider changing careers. Work with street people. Rescue feral cats. Move to rural France. Or maybe learn to play the lute? No? How about the kazoo?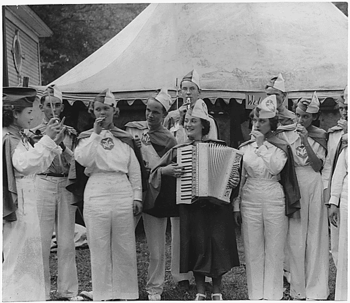 Kazoo concert given in Sandwich, Illinois, 1936.
Posted by JD Hull at December 18, 2011 12:59 AM
Comments
Post a comment