« Esquire Magazine: "What the Hell Is Happening in Russia?" | Main | Stanford Law's Amalia Kessler: Adhesion, Arbitration and the American bias against ADR. »
March 07, 2012
The American Prospect: On Newt Gingrich's Super-Bad Super Tuesday.
"Newt Gingrich had a terrible Super Tuesday." Even if they are waning, let's give Newt Gingrich, Rick Santorum and Ron Paul (and especially Paul) some credit for adding to the conversation America has every four years. I can't and won't vote for any of the GOP candidates we've been forced-fed so far. But each, especially Paul and Santorum, warts and all, is more authentic--i.e., like me, you may not "like" them or buy into them, but at least they actually believe what they are saying--than Romney, who America is about to meet on a much larger scale. While he is talented, smart and accomplished, Mitt is one very insular and uber-eccentric man, folks. My prediction: he will give most of us, at least us Yanks with intuition and horse sense, the King-Hell Creeps. See at Jay Harris's greatly new-and-improved The American Prospect this piece: Newt's Terrible, Horrible, No Good, Super Bad Tuesday. It begins:
Newt Gingrich had a terrible Super Tuesday.

Yes, yes, he won Georgia, his home state, going away. But he not only failed to win any of the other nine states that held elections, he failed to place second in any of them as well.

He came in third in the other two Southern states that held contests—Tennessee and Oklahoma. In five states—Alaska, Idaho, Massachusetts, North Dakota, and Vermont—he ran fourth, behind Ron Paul.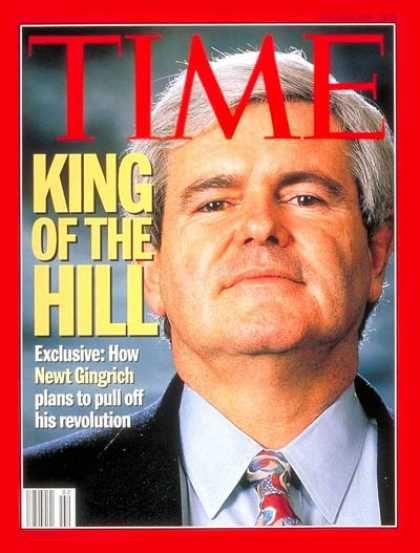 Newt Gingrich in early 1995
Posted by JD Hull at March 7, 2012 11:59 PM
Comments
Post a comment
Thanks for signing in, . Now you can comment. (sign out)
(If you haven't left a comment here before, you may need to be approved by the site owner before your comment will appear. Until then, it won't appear on the entry. Thanks for waiting.)