« Saturday Layover in Chicago: An honor. This is one mean, wonderful hardworking town. | Main | Pantheon: Charlotte Rampling. Still smoldering after thirty years in three languages. »
May 20, 2012
Born in Chicago.
Fierce as a dog with tongue lapping for action, cunning as a savage pitted against the wilderness,
Bareheaded,
Shoveling,
Wrecking,
Planning,
Building, breaking, rebuilding,
Under the smoke, dust all over his mouth, laughing with white teeth.

--from Carl Sandburg's "Chicago"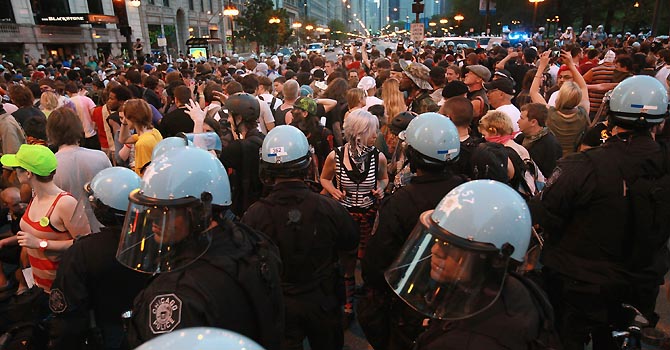 NATO Summit: Saturday night live on Michigan Avenue (AFP photo).

Posted by JD Hull at May 20, 2012 06:50 PM
Comments
Post a comment
Thanks for signing in, . Now you can comment. (sign out)
(If you haven't left a comment here before, you may need to be approved by the site owner before your comment will appear. Until then, it won't appear on the entry. Thanks for waiting.)