« Turgenev's "Fathers and Sons". | Main | Samuel Johnson: Habits, Work and Straight-Up Magic. »
December 03, 2012
So you think you're an Alpha Male? Consider Hearst the Younger.
"You furnish the pictures, and I'll furnish the war."
Young William Randolph Hearst was supposed to have telegraphed this (but almost certainly did not) to famous illustrator Frederic Remington, dispatched by Hearst's New York Journal to cover Spanish repression and military atrocities in Cuba in January of 1897. This was over a year before America finally declared war on Spain. Remington hated his month-long gig in Cuba. He wanted to leave Cuba and come home. He had telegraphed Hearst that there would be "no war". The above quote is Hearst's legendary bravado-drenched reply.
One of the best biographies I've read, The Uncrowned King: The Sensational Rise of William Randolph Hearst came out in 2009. Kenneth Whyte, a well-known Canadian editor and gifted story teller, has chronicled the younger Hearst's assault on the New York City newspaper publishing world in the 1890s. Here's a portrait of a "rich kid" who worked his ass off. A positive NYT book review by Jack Rosenthal three years ago does Whyte's exciting and painstakingly-researched book on Hearst only partial justice. Life's short. Read only good biographies. Start with this one.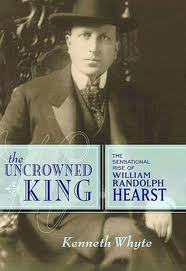 Posted by JD Hull at December 3, 2012 10:00 PM
Comments
Post a comment