« Litigation: Jim McElhaney on "Killing Your Case With Clutter". | Main | What About Clients's World Famous, Bad-Ass, Annoying and Infuriatingly Correct 12 Rules of Customer Service. »
February 25, 2013
Law and Litigation: Adam Smith [Bruce MacEwen] And BigLaw Not On Same Page.
Dang. And Hell's bells. Lawyer-writer Bruce MacEwen is well-regarded, and is possibly the best consultant out there for upscale law in the West. And apparently he is not happy these days with the learning abilities of his natural constituency: the larger and often (in my humble opinion) increasingly talented-diluted corporate law firms of America and the United Kingdom. See this one at Business Insider: Lawyer Can't Believe How Much His Colleagues Are In Denial About The Crisis In Law Services. It's complicated--and not.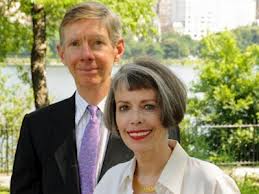 Sir Bruce and attractive fellow New Yorker.
Posted by JD Hull at February 25, 2013 06:12 PM
Comments
Post a comment