« What About Clients's World Famous, Bad-Ass, Annoying and Infuriatingly Correct 12 Rules of Customer Service. | Main | Litigation: The 7 Habits of Lame Outside Counsel. »
February 26, 2013
At Cross-Culture: "Blossoming Russia".
Cross-culturalist and global business guru Richard D. Lewis finally posted yesterday about his January trip to St. Petersburg and the new Russia. A man forever excited by changes and constants in the world's increasingly-colliding tribes, he begins:
From the 20-25 January 2013 I visited the city of St. Petersburg, giving lectures in two prominent academic institutions – the University of Humanities and Social Sciences and the European University at St. Petersburg. During and after my stay, I was left with the following impressions:

St. Petersburg is one of Europe's most beautiful cities, either under its mantle of white, crispy snow in February, or even more so in the soft late evening glow of June – a period known as the "White Nights", when inhabitants stay out sunbathing on the tidy, sloping banks of the Neva river until almost midnight.

Both Peter the Great and Catherine the Great laid out their city with detailed care and great taste. They employed Italian and other European architects from the top drawer and created an urban wonderland of matchless allure. This city competes confidently with Paris, Versailles and Rome in its bold geometric layout, its imposing white façades and its attractive clear-cut canals (second only to Venice).

*****

In both universities I was impressed by audience quality, in marked contrast to those I had addressed in earlier times in Moscow. Soviet-epoch audiences listened dutifully, but their reactions were restrained, smiles guarded, feedback almost non-existent.

The audiences I now addressed in St Petersburg were warm, sympathetic listeners, showing keen interest in other cultures. The age group was about 22-50; they all evinced willingness to ask questions. Their responses indicated that they were knowledgeable, though many of them had not crossed national borders. Their questioning was open and without any evident bias.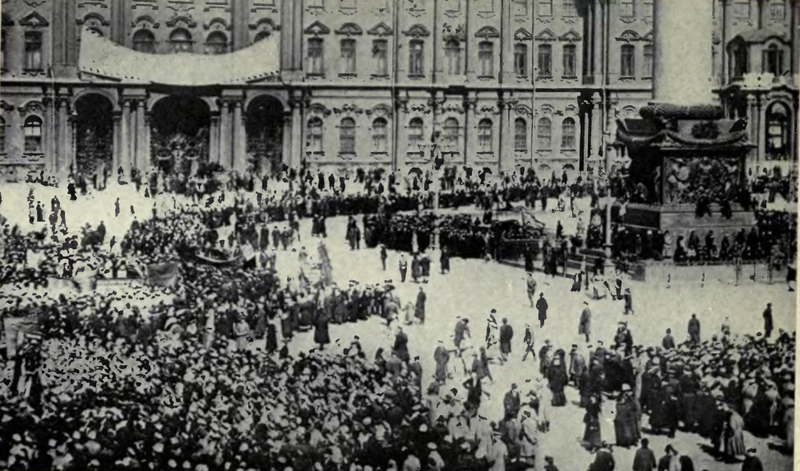 May Day demonstration in front of the Winter Palace, 1918. From Edward Alsworth Ross's The Russian Bolshevik Revolution (1921).
Posted by JD Hull at February 26, 2013 09:51 PM
Comments
Post a comment