« Pliny on Africa. | Main | Redux on Cross-Border Work: The Sacred, No-Excuses Weekly Phone Call. »
February 04, 2013
BBC Feature: South Africa's New Ultimate "Boaster" Slackoisie.
Soweto-based Hamilton Wende at BBC News Magazine finds going out with South Africa's flashy young 'boasters, teens too young to recall the struggles of their parents against apartheid, to be a trip-and-a-half:
There are only a few shops that stock these shoes and the silk shirts that the children buy. The shoes cost 3,000 rand (£215/ $330) a pair and the shirts 2,000 rand (£140/$225).

Adults in the cars around us look away as the minibus slowly navigates the traffic.

On township slang, these children are known as izikhotane (the boasters). In recent years, they have become a huge social phenomenon as they gather in their hundreds - even thousands - at parks dressed in their expensive outfits.

At these gatherings, loud music blares while the children dance and often ruin - or even destroy - their clothes and shoes, stripping them off and pouring custard on them and rubbing them into the ground to show off and pretend to be rich.

There is a growing outcry from many adults about this behaviour, but the popularity of the izikhotanes among young township teens is high. They even have a Facebook page with pictures of kids covered in money or destroying an expensive smartphone by holding it under a running tap.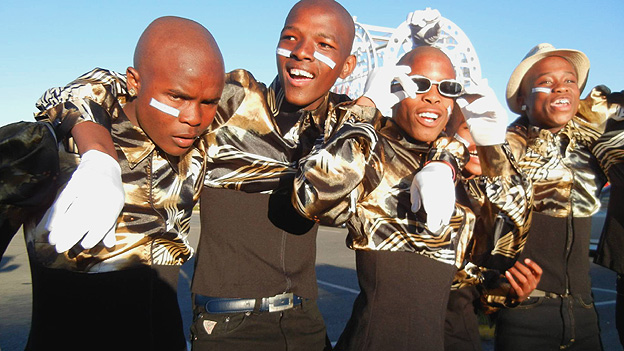 Izikhotane: Soweto Teens Puttin' on the Dog.

Posted by JD Hull at February 4, 2013 12:18 AM
Comments
Post a comment