« Mississippi Fred McDowell: John Henry. | Main | For Wonks Only: China IPR. »
February 12, 2013
Sensitive Litigation Moment: Francis Wellman On Bad Answers.
A good advocate should be a good actor. The most cautious cross-examiner will often elicit a damaging answer. Now is the time for the greatest self-control. If you show by your face how the answer hurt, you may lose your case by that point alone.

--Francis L. Wellman, The Art of Cross Examination, first published in 1903.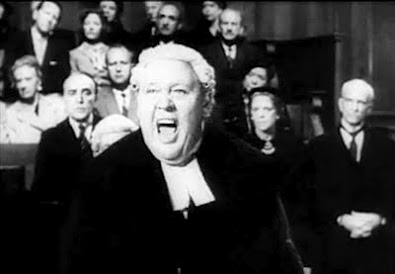 Charles Laughton's Sir Wilfrid overreacts in "Witness For the Prosecution" (1957).

Posted by Holden Oliver (Kitzbühel Desk) at February 12, 2013 12:59 AM
Comments
Post a comment