« Litigation: The 7 Habits of Lame Outside Counsel. | Main | Customers, clients, buyers: Do you still need Prissy, Myopic & Slow in 20 cities? »
February 27, 2013
Criminal Law: Happy 154th Birthday, Temporary Insanity Defense.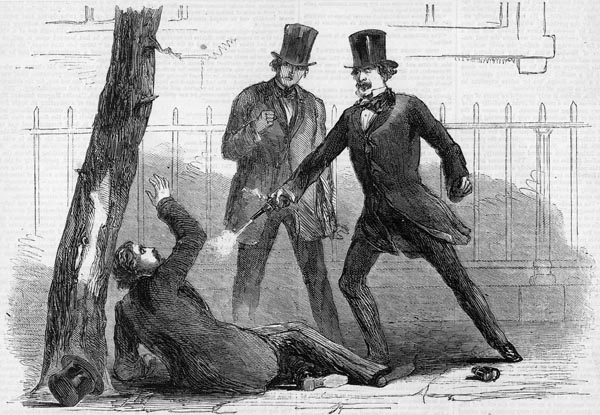 On February 27, 1859, in Washington D.C.'s Lafayette Park, right across from the White House, U.S. Representative Daniel Sickles shot and killed fellow lawyer Philip Barton Key II, son of Francis Scott Key, and also the U.S. District Attorney.
Sickles was a talented, ambitious, somewhat shady and mega-philandering Manhattan politician who counted President Lincoln among his many friends. In early 1859 he discovered that Key was having an affair with Sickles's young and quite pretty yet long-neglected wife, Teresa. He shot Key three times at close range in front of several witnesses in broad daylight. Sickles had to be restrained from putting a fourth bullet in Key, one last one for good measure to his head.
At his murder trial, the congressman's dream team of D.C. lawyers argued the then novel theory that Sickles was so enraged with jealousy when he learned Key was sleeping with his wife (at their love nest on 15th Street N.W., near the present day location of the Washington Post) that he became "temporarily insane". The judge--and later the jury--bought it. Sickles was acquitted.
During his life, Sickles made American foreign policy, helped create New York's Central Park, and was a celebrated if controversial Union Army field general. The best book on Sickle's amazing, checkered and long public life is Thomas Keneally's American Scoundrel: The Life of the Notorious Civil War General Dan Sickles.
Posted by JD Hull at February 27, 2013 11:59 PM
Comments
Post a comment