« Sensitive Litigation Moment: The Tingle & Tonic of a New Idea. | Main | Heads Up: St. Denis, Paris Bishop (d. circa 270), had Big Moxie. »
February 01, 2013
The Economist: Two must-read pieces on the curable madness of U.S. legal education.
From the February print edition of The Economist:
1. "America's lawyers: guilty as charged." Excerpt: "America has more lawyers per person of its population than any of 29 countries studied (except Greece), and it spends two to three times as much on its tort system, as a percentage of GDP, as other big economies (except Italy)."
2. "The two-year itch. Could law schools be ready to change their ways?", which begins:
Law students have been saying for years that America's legal education is broken. Graduates from even the best law schools are failing to find jobs. And those that do often find themselves stuck. The average student takes out more than $100,000 for law school, which is why many feel they cannot afford to leave the profession; governments and NGOs cannot pay them enough.
And lest you think we haven't been worried about y'all, see, e.g., Plan B for recruiting "Grunts"? (September 5, 2009), To American law schools: A little help, please? (April 14, 2010), Bruce Antkowiak: "Why Law Schools Must Reform" (January 13, 2011), and Peter Friedman: Problems, Creativity and Uncertainty (January 06, 2012).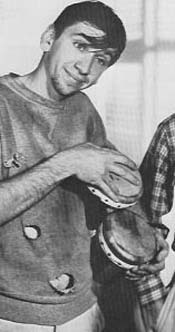 20th Century Fox Television
Posted by JD Hull at February 1, 2013 12:59 AM
Comments
1. Talk about bad economics. These pieces are awful. For starters, what it costs to operate a business has nothing to do with who owns such.
2. It has been repeatedly shown that the size of our tort system is a direct function of the freedom with which we permit Americans to injure other people. For example, we permit the American populace to be armed with guns and as a result we have 35/40 thousand fire arms deaths each year. No other country permits this. Further, we permit health care providers to kill 190,000 people a year. Further, we permit people to drive too fast on poorly designed and maintained highways. And, if you think otherwise, what is your position of driverless cars. Google estimates that its driverless car system will eliminate 90% of highway accidents and deaths, virtually ending what is most of the "tort system" But, adopting such would require the government to order people to switch to driverless cars (economics of scale in production, etc)
Do you favor manadatory driverless cars?
3. The cost of a legal education is going to solve itself, as are the costs of all education. The sole question should be are we willing to admit people who have passed tests on the various subjects necessary to become a lawyer. The 3 year rule has been the rule since before the American Revolution. Jefferson read law for three years before becoming a lawyer. People smarter than Jefferson might be able to pass a bona fide bar exam in less than 3 years, post undergraduate school, but they are few and far between.
In fact, general practice lawyers need even more than 7 years education now. They need skills in IP, finance, business models, and how to write computer code, in addition to all the rest of the bed rocks.
4. The actual problem with the practice of law is that we act as if Adam Smith never wrote the Wealth of Nations. Few lawyers have read Smith and even fewer understand what he has to say relevant to the practice of law.
Always, the secret to economic prosperity is the division of labor. That is mostly what Smith wrote about.
The entire organization of the practice of law is a conspiracy against the division of labor. Lawyers may not specialize and advertise as such. The conflicts of interest rules prohibit a firm from specializing. It is very hard to advise Samsung and Apple on patent strategy at the same time.
The psychology of the lawyer client relationship in the corporate setting does not have as its goal the specialization of labor. No, the relationship is for the client to be the "property" of the lawyer who has the relationship with the CEO, having implicitly or expressly promised, "We will do whatever it takes to keep you as CEO as long as you want, sucking as much undeserved gain as you can from the company." The CEO, due to agency problems, has no intent to hire the best lawyer for the firm. He hires the best lawyer for himself.
If you contest such, then explain why federal, state, and local governments do not put legal work out for competitive bidding.
Of course it gets worse. Why is it that law school grads cannot find jobs but judges who leave the appellate bench instantly get hired by people who surprise, want the judge to go back and handle cases before the Court which she or he just left.
In sum, the entire conversation is a dishonest one. The legal system is what it is because it is what it is.
If you want to change it, do what was rejected 10 years ago. Permit lawyers to provide a wider array of services (accounting, securities, lending, insurance, real estate) and to advertise such, in the same manner or means as Wal-Marts conducts its affairs.
Posted by: John at February 1, 2013 08:36 AM
JD
To provide additional support for my comments.
Regarding external ownership of law firms, according to the Modigliani–Miller theorem, "in the absence of taxes, bankruptcy costs, agency costs, and asymmetric information, and in an efficient market, the value of a firm is unaffected by how that firm is financed. It does not matter if the firm's capital is raised by issuing stock or selling debt. It does not matter what the firm's dividend policy is. Therefore, the Modigliani–Miller theorem is also often called the capital structure irrelevance principle."
http://en.wikipedia.org/wiki/Modigliani%E2%80%93Miller_theorem
This work resulted in a Noble Prize in 1985 +/_, so it seems to me that The Economist advocating for non-lawyer investment in law firms hasn't even started making a case.
Posted by: John at February 2, 2013 01:16 PM
Post a comment