« UPDATED: The Week in Wild West Shows: Free Speech, Dueling & Other Manly Arts. | Main | France's New First Girlfriend? »
January 25, 2014
Defendant-Tweeter Courtney Love Prevails in First Twitter Libel Trial.
Chalk up a victory and some trail-blazing for rocker Courtney Love. On its unusual facts, and given somewhat implausible testimony on both sides, the first Twitter libel case to go to trial sounds like a poor test case. But "Twibel" of course is making lots of headlines anyway. See, e.g., the Los Angeles Times' coverage of yesterday's jury verdict for Love in a case brought by her ex-attorney Rhonda Holmes. It springs from Love's defamatory, evidently inaccurate and slightly cryptic June 2010 tweet that attorney Holmes had been "bought off". The Los Angeles jury found that Love did not know the defamatory tweet was false, and did not act recklessly. Excerpt from the Los Angeles Times piece:
Dubbed "Twibel," the civil suit seeking $8 million was filed by Rhonda Holmes, who had once acted as Love's fraud litigation attorney. The singer-actress filed her own complaint against Holmes, claiming legal malpractice.

Holmes had been hired in December 2008 to look into missing funds from the estate of Kurt Cobain, Love's late husband.

Holmes and Love parted ways after less than six months. The attorney alleged that the relationship had been contingent on Love refraining from substance abuse, a stipulation that eventually angered the singer. The attorney also said that Love became a difficult client and wouldn't return calls.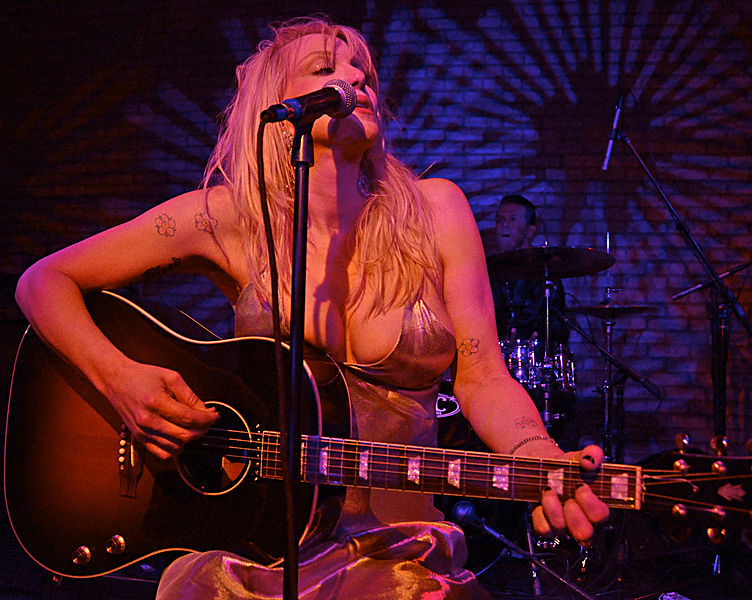 Courtney Love performing at the Dream Downtown in Manhattan, New York, September 9th, 2013. (Source: Studio Havens/Marie Havens)
Posted by JD Hull at January 25, 2014 03:26 PM
Comments
Post a comment
Thanks for signing in, . Now you can comment. (sign out)
(If you haven't left a comment here before, you may need to be approved by the site owner before your comment will appear. Until then, it won't appear on the entry. Thanks for waiting.)