« John Dawson Winter III (February 23, 1944 - July 16, 2014) | Main | Hermann Hesse: Joking with the Immortals. »
July 18, 2014
The Economist: India steps up to its age-old public sanitation crisis.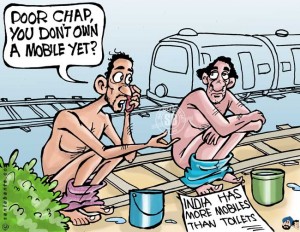 Finally, it's all about the toilets. And, more importantly, it's even okay now to talk about it. See The Economist feature Sanitation in India: The Final Frontier in tomorrow's weekly print edition. Excerpts:
Narendra Modi, India's prime minister, says building toilets is a priority over temples. His finance minister, Arun Jaitley, used this month's budget to set a goal of ending defecating in the open by 2019. That will be 150 years since the birth of Mohandas Gandhi, who said good sanitation was more important than independence

Ending open defecation would bring immense benefits. Some 130m households lack toilets. More than 72% of rural people relieve themselves behind bushes, in fields or by roadsides. The share is barely shrinking. Of the 1 billion people in the world who have no toilet, India accounts for nearly 600m.

India fares worse on sanitation than a host of poorer places including Afghanistan, Burundi and Congo, partly because too many of its leaders are too squeamish to face up to the issue. Thankfully, that appears now to be changing. The government, gung-ho for infrastructure, has just said it will build 5.2m toilets by September, or one every second.

[I]n spite of rising incomes and better diets, rates of child malnourishment in India do not improve faster. Unicef, the UN's agency for children, estimates that nearly one-half of Indian children remain malnourished.
Posted by JD Hull at July 18, 2014 12:01 AM
Comments
Post a comment
Thanks for signing in, . Now you can comment. (sign out)
(If you haven't left a comment here before, you may need to be approved by the site owner before your comment will appear. Until then, it won't appear on the entry. Thanks for waiting.)