« Getting Published: What About Crowdsourcing? | Main | Parker Posey: And all she wants to do is dance. »
September 18, 2014
UPDATE: Decision day in Scotland.
Update as of 10 pm Scottish time/5 pm EST: Most UK and American news sources have it that 5 hours after the Scottish polls closed, the vote is too close to call. Our prediction: the "No" vote (rejecting independence) will narrowly prevail.
Today, in an official referendum of the United Kingdom, 4 million residents of Scotland will decide whether or not to end Scotland's 307-year union with the United Kingdom. Scottish independence is the only item on the ballot. Only Scottish residents--and even most non-Scottish residents--can vote. The voting age in Scotland is 16. Polls close at 5 pm (12:00 noon EST in the U.S.). A true and correct copy of the ballot is below.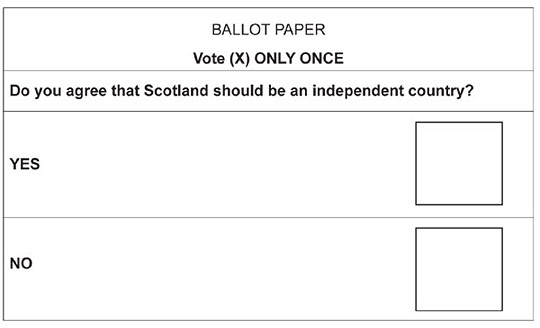 Posted by JD Hull at September 18, 2014 11:59 PM
Comments
Post a comment
Thanks for signing in, . Now you can comment. (sign out)
(If you haven't left a comment here before, you may need to be approved by the site owner before your comment will appear. Until then, it won't appear on the entry. Thanks for waiting.)