« Over-Communicate: Bombard, Copy and Confirm. | Main | 2014 List: Wild Men. Wild Women. »
October 29, 2014
November 16: NYC screening of "The Life and Mind of Mark DeFriest", a film about criminal justice.
If you are criminal defense lawyer, this will interest you. Other screening locations, which include law schools, are below. The NYC screening of Gabriel London's documentary "The Life and Mind of Mark DeFriest" is November 16, 9:30 pm, The SVA Theater, 333 W. 23rd Street. About this film:
See the NYC premier of Gabriel London's 's acclaimed film at DocNYC. Bring friends who are interested in the criminal justice system, and of course lawyers, judges, prosecutors, mental health professionals and the like. Gabriel's film captures the humanity of a non-violent but mentally ill prisoner, Mark DeFriest, jailed for a non-crime, who has been denied treatment and punished with rape, beatings, and solitary confinement for 33 years, but still preserves his decency and his sense of humor. Come to the premiere and join the effort to gain a fair parole hearing for Mark, who represents an estimated quarter million mentally ill persons behind bars in the US. Click here for NYC and screening in other cities.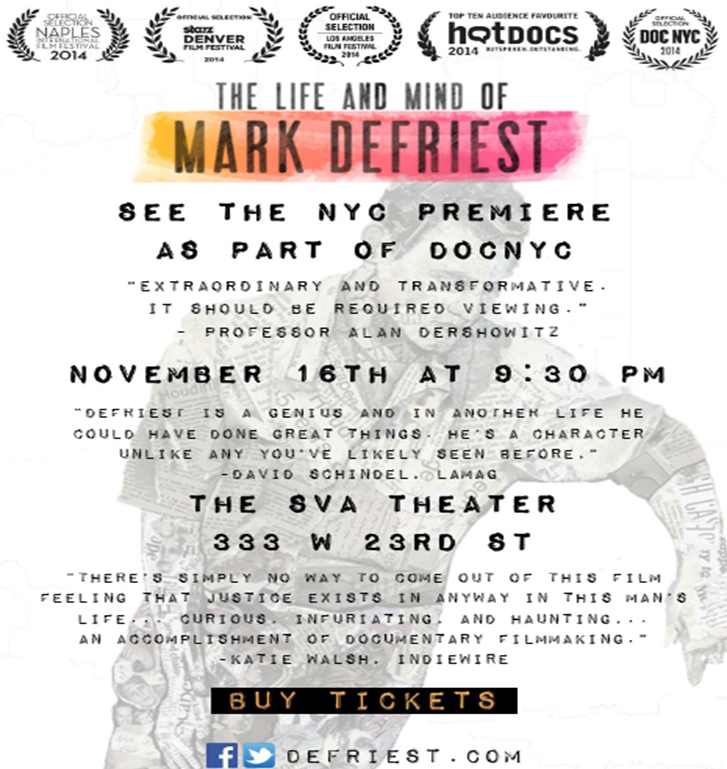 Posted by JD Hull at October 29, 2014 01:46 PM
Comments
Post a comment
Thanks for signing in, . Now you can comment. (sign out)
(If you haven't left a comment here before, you may need to be approved by the site owner before your comment will appear. Until then, it won't appear on the entry. Thanks for waiting.)