« Pantheon: Charlize Theron | Main | On Thank You Notes. »
November 24, 2014
Happy Birthday to the other Wild Bill.
Happy Birthday to the world-changing conservative and libertarian--he called himself both--the late William F. Buckley, Jr., who died (on my own birthday) six years ago at the age of 82. No matter what our political views are or were, we wish he were still part of the American conversation. He was born in 1925. Boy wonder, author, Renaissance man, publisher, editor, ex-CIA operative, accomplished sailor, harpsichordist, novelist, founder of the National Review, co-founder of YAF, author of over 40 books and crafty Gore Vidal-fighter, Buckley was, for lack of a better word, exotic.
His enormous talents, however, were often lost in the fireworks he wryly set off as a conservative visionary, writer and leader. He was a lightning rod. Unfortunately, one of the earlier books he co-authored 60 years ago supported U.S. Senator Joe McCarthy. Yet throughout this life, he formed strong friendships with liberal activists and leaders.
No American has had a better command of the English language, or has reveled in the joy of words, as he did. No one worked harder. No one enjoyed life more. And no one seemed to be on television more in the 60s or 70s, both on his own program and on the talk shows of others. Two fun Buckley facts: During World War II, Buckley entered the U.S. Army as a second lieutenant. In 1945, he was a member of Franklin Roosevelt's honor guard at Roosevelt's funeral. Interestingly, English was his third language. As as a child, Buckley was 100% home-schooled, and he did not formally begin to study English until he was about 7. His first languages were Spanish and French.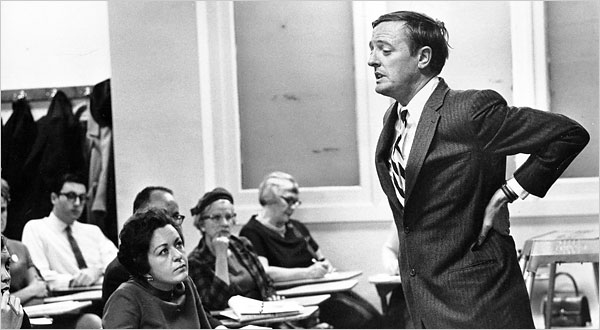 Posted by JD Hull at November 24, 2014 09:04 PM
Comments
Post a comment
Thanks for signing in, . Now you can comment. (sign out)
(If you haven't left a comment here before, you may need to be approved by the site owner before your comment will appear. Until then, it won't appear on the entry. Thanks for waiting.)