« The Book of Kells: Lots of gods are at play here. | Main | Learn Them and Fit In: The Seven Unshakeable Habits of Tragically Clueless Lawyers. »
November 17, 2014
William Jefferson Clinton: Lame Duck This, Everyone.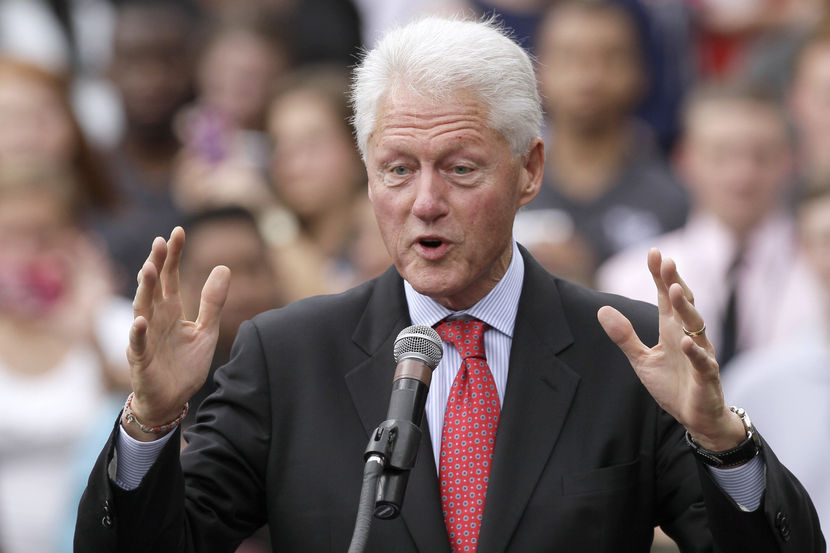 Danny Johnston/AP
William Jefferson Clinton. Love him or hate him, he always comes ready to play. MSNBC: Bill Clinton's advice to Obama: Have fun during final two years. The piece is by Alex Seitz-Wald and it begins:
LITTLE ROCK, Arkansas – Former President Bill Clinton on Saturday urged President Obama to have fun and cut deals with Republicans now that the GOP controls both chambers of Congress. Clinton also said Obama's decision to delay executive action on immigration until after the election likely depressed Latino turnout.

"I never bought this whole lame duck deal. I just didn't," the former president told Politico's Mike Allen at an event here. "That's my only real advice. It needs to be fun. It's a great honor to go to work in the White House. It's crazy to say you're a lame duck and waste a single day of that precious time."

Still, the former president – who himself faced a Republican-controlled Congress in his final two years in office – had more substantive suggestions as well. "I think that he should minimize the chances of being a lame duck, which he can do by continuing to have an agenda, and using the budget process to make deals with the Republicans, because now that they have both houses, they have a much more vested interest in actually governing,"

Clinton noted that his administration was working "right up until noon" on the day of his successor's inauguration, and suggested that Obama needs to try harder to advance his agenda. There are still "five or six" big things he thinks Obama can get done, including immigration reform.

"There's nothing sadder than seeing anybody whose term-limited, like a great athlete, get out of playing whatever you play and then you can't do what you really love to do any more, so you just sort of let go," Clinton said.
Posted by JD Hull at November 17, 2014 11:25 PM
Comments
Post a comment
Thanks for signing in, . Now you can comment. (sign out)
(If you haven't left a comment here before, you may need to be approved by the site owner before your comment will appear. Until then, it won't appear on the entry. Thanks for waiting.)