« The High Sweet Smell of Spirited Mediocrity: SNL's New Ode to the Slackoisie, Happysphere and Self-Esteem Movement. | Main | Benjamin Siegelbaum: Best Hood Ever. »
January 17, 2012
Transcript of last Monday's SCOTUS argument in Sackett v. EPA: Some Justices Peeved by EPA?
We posted briefly last Monday (January 9) on the oral argument that morning in Sackett v. EPA (No. 10-1062), the right to pre-enforcement review dispute which pitted the EPA against Mom and Pop America and their backyard. A few people asked for the transcript to determine which, if any, justices were actually "riled" at the EPA. The transcript is here and you can decide for yourself. In any event, the best post-Sackett argument lead came in an article by Greg Henderson at Drovers CattleNetwork in "Supreme Court Justices Critical of EPA in Wetlands Case". It begins:
One of the little guys had his day in front of the U.S. Supreme Court Monday, and a lot of the big guys were watching.

In what could become an important decision regarding the Environmental Protection Agency's enforcement rules, several Supreme Court justices appeared sympathetic to the cause of Mike and Chantell Sackett in their battle against the EPA and the Clean Water Act.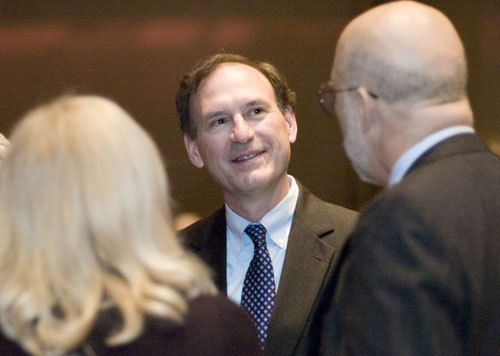 "Outrageous": Associate Justice Samuel Alito, Man of the People.
Posted by JD Hull at January 17, 2012 01:05 PM
Comments
Post a comment
Thanks for signing in, . Now you can comment. (sign out)
(If you haven't left a comment here before, you may need to be approved by the site owner before your comment will appear. Until then, it won't appear on the entry. Thanks for waiting.)