« Pantheon: Chrissie Hynde, Pluperfect Anti-Peasant. | Main | Mike O'Neil: Tomorrow's Arizona race for Rep. Gaby Giffords's seat. "The Only Other 2012 Bellwether Election." »
June 10, 2012
Eurozone "buys time" with loan to Spain: 100 billion euros.
Greece, Ireland, Portugal--and now Spain. The European Union and IMF at this point have earmarked 500 billion euros to finance European bailouts. What's remarkable to me is that European policymakers and world markets largely consider this fourth loan of 100 billion euros to be good news. Short term, it certainly is. But long term? How deep and desperate worldwide must the crisis become? See, e.g., at Reuters "Eurozone Agrees To Lend Spain Up To 100 Billion Euros".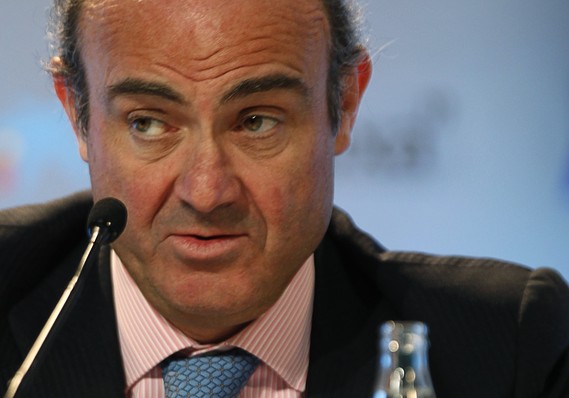 Spain's finance minister, Luis de Guindos.
Posted by JD Hull at June 10, 2012 11:20 PM
Comments
Post a comment
Thanks for signing in, . Now you can comment. (sign out)
(If you haven't left a comment here before, you may need to be approved by the site owner before your comment will appear. Until then, it won't appear on the entry. Thanks for waiting.)