« ChatRoulette. Chat hags. Come again? | Main | Will someone please give Jeff Bridges his Oscar now? »
March 05, 2010
The Religion of Hell's Kitchen.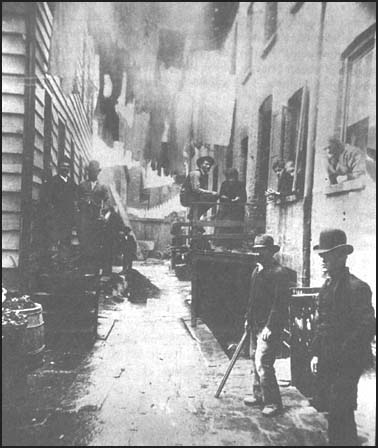 Jacob Riis photo of Bandits' Roost (1890)
Above: Hell's Kitchen, NYC, before it got cute. The work, images and outcry of Riis were all famous at the time. So was this photograph. Next door to Times Square, Hell's Kitchen always seems worlds away. It keeps changing but stays famous: from Irish and German immigrant sub-city to gangland neighborhood to actors' quarter to, these days, more of a yuppie heaven.
But it's still authentic. Real estate brokers years ago came up with the new labels of Clinton and Midtown West--but it did not work. Those handles will never replace the real name. Older neighborhoods, like older people, have personalities--they are feisty as Hell. And they have spirit. If you are in Manhattan some weekend, stroll around there on a Sunday morning early.
The whole 'hood is a Religion, just like the rest of New York City.
Posted by Holden Oliver (Kitzbühel Desk) at March 5, 2010 11:59 PM
Comments
Post a comment