« The Religion of Hell's Kitchen. | Main | The Dude finally abides. »
March 07, 2010
Will someone please give Jeff Bridges his Oscar now?
Real heroes. For his performance in Crazy Heart--and because he has worked his ass off over the years to be excellent again and again.
A reserved and classy human and family man in real life, Bridges has been an artist's artist since his Duane Jackson days in The Last Picture Show. A rangy and compelling actor. Most critics have admired and liked him since 1971--but over the years no one could figure out why he wasn't opening movies. We'd wager that things in his world are about to change.
In Crazy Heart, Bridges plays "Bad" Blake, an eccentric but truly authentic bad-ass cowboy Alpha male who finally grows up--but at a price (Maggie Gyllenhaal). The movie tells a fine and believable story--with a happy ending sans the goofy Hollywood slam dunk. Bridge's character, like his acting career, is a study in grit, growth, and great victories in later life. At 60, Bridges is famous and respected but now may start being a serious commercial player.
The Dude's ship just came in. We may have to call him "His Jeffness".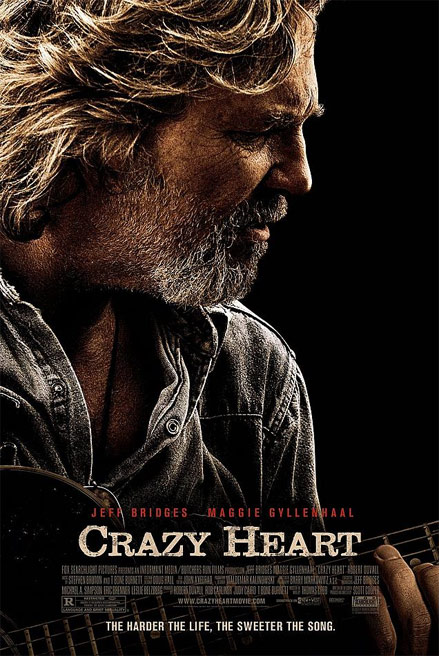 Fox Searchlight Pictures
Posted by JD Hull at March 7, 2010 02:28 AM
Comments
Post a comment
Thanks for signing in, . Now you can comment. (sign out)
(If you haven't left a comment here before, you may need to be approved by the site owner before your comment will appear. Until then, it won't appear on the entry. Thanks for waiting.)