« We knew that. | Main | Begging for Billions, America and the Bankruptcy Code. »
December 04, 2008
We got something bipolar for you right here.
Writing well: grace, joy and attitude. At Salon, see "Princess Leia's wild, bipolar adventures", a review by Rebecca Traister of Carrie Fisher's new book, Wishful Drinking, which started out two years ago as an LA theater "seminar" and popular autobiographical one-woman show. Traister: "Fisher is a language obsessive, a nimble verbal acrobat who puns and somersaults around a page with glee."
Who says crazy people can't write?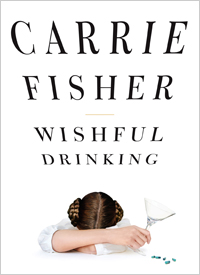 Posted by Holden Oliver (Kitzbühel Desk) at December 4, 2008 12:42 AM
Comments
Post a comment
Thanks for signing in, . Now you can comment. (sign out)
(If you haven't left a comment here before, you may need to be approved by the site owner before your comment will appear. Until then, it won't appear on the entry. Thanks for waiting.)