« We got something bipolar for you right here. | Main | Update: Take this to the ABA polls with you. »
December 04, 2008
Begging for Billions, America and the Bankruptcy Code.
Look, we won't need any more than $38 billion in loans. We made the trip here twice. Washington Post: "Senate Banking Committee Chair Endorses Support for Auto Industry". To Chris Dodd: A significant number of U.S. jobs are linked to the American auto industry. But if (a) you make cars, (b) you screw up and (c) you start making cars that no one really wants to buy because buyers get better value from European and Asian makers, what about seeking protection under Chapter 11 of the Code? Our vote: Ford files, reorganizes, and merges with Chrysler. We could care less what happens to GM--but could GM please immediately sell the GM subsidiary Saab Automobile AB back to Europeans? WAC? lawyers have a thing about funny-looking Swedish road cars before GM got a hold of them in 1990.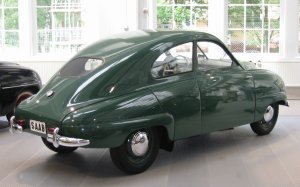 File and merge--but free Saab first.
Posted by Holden Oliver (Kitzbühel Desk) at December 4, 2008 11:59 PM
Comments
Post a comment
Thanks for signing in, . Now you can comment. (sign out)
(If you haven't left a comment here before, you may need to be approved by the site owner before your comment will appear. Until then, it won't appear on the entry. Thanks for waiting.)