« Canada's Law21: Leverage--and redesigning value. | Main | What's my share of the interest per day on just $350 billion? »
December 17, 2008
The Fed goes way out of the box.
Hello, Treasury? This is Ben. I need you to print me up a few more 100s. Well, a lot more. See "US Interest Rates Slashed as Low as Zero" at UK's Daily Telegraph (via our friend Justin Patten at Human Law Mediation):
America's central bank has taken drastic steps to resuscitate the US economy out of its year-long recession, placing interest rates as low as zero - their lowest level in history - as it announced widespread plans to inject liquidity into the ailing financial markets.

By doing so, the Federal Reserve appears to have replaced the base rate as its primary weapon in its battle to support the American economy, putting lending in its place in a move known as quantitative easing.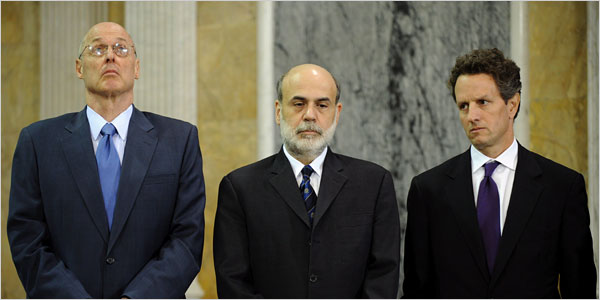 Above: Mid-October photograph of glorious comrades Paulson, Fed Chairman Bernanke & Geithner (NYT/Matthew Cavanaugh/European Pressphoto Agency).
Posted by Holden Oliver (Kitzbühel Desk) at December 17, 2008 12:01 AM
Comments
Post a comment
Thanks for signing in, . Now you can comment. (sign out)
(If you haven't left a comment here before, you may need to be approved by the site owner before your comment will appear. Until then, it won't appear on the entry. Thanks for waiting.)