« The Fed goes way out of the box. | Main | Madoff scandal: Madoff-Jack Warden link? »
December 17, 2008
What's my share of the interest per day on just $350 billion?
"Dude, where's my $700 billion?" by Mike Madden in Salon.
Let's see. There's $15 billion to Bank of America, $45 billion to Citigroup, $3.5 billion to Capital One, $6.5 billion to U.S. Bancorp, and then $1.4 billion to Zions Bancorporation in Salt Lake City. Huh?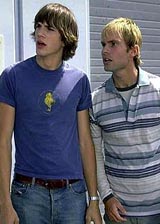 (20th Century Fox)
Posted by Holden Oliver (Kitzbühel Desk) at December 17, 2008 11:59 PM
Comments
Post a comment
Thanks for signing in, . Now you can comment. (sign out)
(If you haven't left a comment here before, you may need to be approved by the site owner before your comment will appear. Until then, it won't appear on the entry. Thanks for waiting.)