« Sensitive Litigation Moment: Be There 24/7--or Give Walmart a Shot. | Main | "It's over, Muffy. Back to Suffolk. I'll mix the martinis. You pack the good swizzle sticks." »
October 17, 2011
Law's No Longer Local, Lester: Try a Tennessee Trial Lawyer.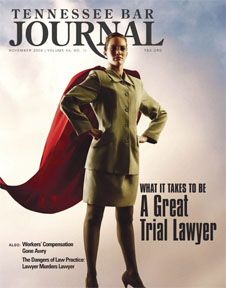 What does it take be a great trial lawyer, anyway?
Nashville's John Day may have the answer. No surprise to us that fellow Midwesterner Day ended up here. Tennessee is the warrior-breeding Volunteer State. It hatches, and attracts, both brawlers and serious students of war. Record numbers of Tennessee men stepped up to fight in the 1812 and Mexican wars. Alvin York, World War I's most decorated American soldier, came from Pall Mall, near the Kentucky border. Like Texas--the only other semi-straight state so far this century--Tennessee is a Real Man's State.
In fact, a recent study by the prestigious Kitzbühel Institute showed that Tennessee male lawyers as an overall group are relatively, well, "masculine" compared to practitioners in other jurisdictions. And Volunteer State guy litigators are far less likely than their counterparts in other American states to: (1) move about the office with a sashay; (2) either talk on phone or type with a lisp (alarmingly on rise these days in "Chicago Land"--this includes Milwaukee and Indianapolis); or (3) wear their Cartier "Halo Scroll" diamond tiaras to work on casual Fridays or Saturday mornings.
Anyway, back to John Day. So John just had to move to Nashville? But hey, no problem. Law is no longer local. Great trial lawyers, litigators, deal people, IP attorneys and pretty anyone in demand works everywhere these days. In 2011, clients are "unbundling" the talent. You find it where it lives. You go get it. Use it. Read either John's fine Day on Torts, or his cover article 3 years ago in the the Tennessee Bar Journal.
Posted by JD Hull at October 17, 2011 11:59 PM
Comments
Post a comment