« The Economy: Europe moving right-ward--for now. | Main | "Mexico: Working With The Mañana Culture" »
June 16, 2009
Notes from the Breadline (Part V)
We got busy and we missed it. This is Part V of Above The Law's "Notes from the Breadline" by "Roxanna St. Thomas". It's about her adventures, and all manner of newly-discovered emotions, after losing her job at a law firm some months ago in NYC. For a lawyer, she writes pretty well--especially about all those different colors of angry out there. Below are excerpts from her weary yet simmering interview last week with a solo, zombie-like little man from a David Lynch set:
One day, I get an e-mail from a solo practitioner who has seen my resume online and wants me to come in for an interview.... When I arrive at his office, which is in one of the old, ornate buildings near Grand Central, my spirits are buoyed by the momentary sense that I am part of the bustle of commerce. A gilded chandelier in the lobby hangs over polished marble floors, and when I get out of the elevator upstairs my footsteps are cushioned by thick, red carpet. It feels anachronistic, but vaguely comforting.

But when I arrive at the suite I have written down, a door opens on a shared office space that is distinctly less grand. In fact, it reminds me of the war room I recently occupied, and I half-expect Mr. Potato Head to pop out from behind a plant, trailing a string of sausages. I try to ignore the sinking feeling that creeps through me as I sit in the reception area, waiting.

When the lawyer, a thin, cadaverous man who looks as though he escaped from the wax museum, comes out to fetch me, I quickly determine that I probably could toss him through the window, even without superhuman strength. He extends a limp hand and introduces himself as Asa, a name I have always associated with donkeys.

Once I am seated across from his desk, he tells me that he is looking for one associate to assist him in his solo practice. He takes out my resume and begins to pore over it. Silence descends. Minutes tick by. He tells me that he handles a lot of regulatory matters for shipping companies. Have I ever worked on such matters?

No, I answer, not specifically. How about admiralty? No again.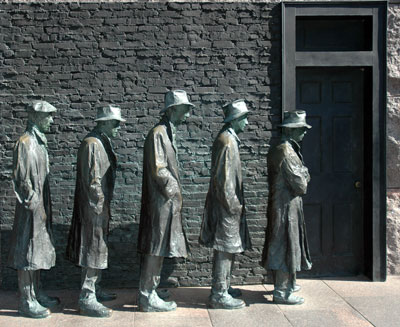 Posted by Rob Bodine at June 16, 2009 04:54 PM
Comments
Post a comment
Thanks for signing in, . Now you can comment. (sign out)
(If you haven't left a comment here before, you may need to be approved by the site owner before your comment will appear. Until then, it won't appear on the entry. Thanks for waiting.)