« The Divine Mr. Greenfield: Policing Your Kool-Aid for You. | Main | Breaking news: I will name my next three children after Jack Welch. »
July 16, 2009
The Economist: Goldman Sachs's record profits.
In the land of the blind, the one-eyed man is King.

--Erasmus of Rotterdam (1468–1536)
But a win is still a win. See yesterday's article in The Economist, "Keeping Up with the Goldmans". Excerpts:
This windfall will eventually dwindle. Goldman and other survivors will benefit from the coming wave of debt issuance by federal, state and local governments. But dealer spreads are sure to shrink as markets normalize and those that have retreated return to the fray.

This is likely to be offset only partially by a pick-up in businesses tied more closely to economic growth, such as advising on mergers and acquisitions.

Wall Street will also face tighter shackles. Regulators are on the warpath against commodities speculators. A clampdown is also coming in credit derivatives; this week America's Justice Department joined those probing that market.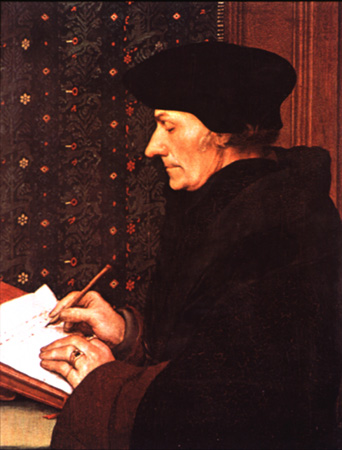 Erasmus, by Hans Holbein the Younger, 1523, Musée du Louvre
Posted by Rob Bodine at July 16, 2009 11:59 PM
Comments
Post a comment
Thanks for signing in, . Now you can comment. (sign out)
(If you haven't left a comment here before, you may need to be approved by the site owner before your comment will appear. Until then, it won't appear on the entry. Thanks for waiting.)