« Nominee Kagan | Main | Tan, ready, and re-launched in Europe »
May 11, 2010
A Man in Full: Duncan Campbell King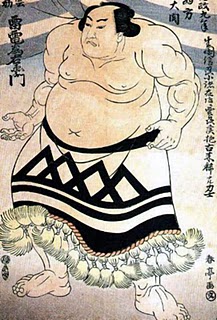 It is only through work and strife that either nation or individual moves on to greatness. The great man is always the man of mighty effort, and usually the man whom grinding need has trained to mighty effort.

--D.C. King, quoting Teddy Roosevelt, in a speech about U.S. Grant, Galena, Illinois, April 27, 1900*
No, no, he's not from Pittsburgh--too small, frail and well-read--but damn good guess. We admire Albion's new star Duncan Campbell King at Wrath of a Sumo King. Not just because he has given up all hope of ever behaving normally--and raised that to an art form. "I am Duncan Phebus Sumo Mercutius Steerpike Campbell King, Litigator Extraordinaire, and I do not want you to like me." But there's more, and a method here.
Yes, venting, sporting women and an American style "First Amendment" focus--but an un-conflicted, non-double standard one--are the main events. Like in olden days before we liberals ruined our speech and children with PC agendas--so your boys could grow up to sound like Mr. Rogers, Liberace, or maybe your great-grandmother in St. Cloud.
But through all his Triple-X venting on these subjects we also detect a great caring about quality, hard work, truth, beauty. Duncan is hereby given a Club Ned anonymity pass/exemption for life. Grounds: authentic, experimental, un-PC and feral.
Rise, Sir Duncan. Try not to maim anyone on the way out.
*Nota bene King's dictum to TeleTubbies, Teacups, Slackoisie, other New Age Looters: "Contrary to the horrific woolly bullshit you are fed it is a tough, competitive world."
Posted by Holden Oliver (Kitzbühel Desk) at May 11, 2010 09:35 PM
Comments
Nicely done, Jetlag-Boy. I see you're still raw you were made to live in Western PA 3 summers ago. Just think of it as visiting Cuba in early 1950s. Funny, though.
But..."bill any hours" today (i.e., add value)? You don't get to do one thing while cat's away. NB, yourself, Holden: Blogging fourth. Clients first. Or get a job in a nightclub in Mainz.
Posted by: Hull at May 11, 2010 01:34 AM
You never say anything 100% nice. That a boomer thing?
Posted by: Holden Oliver at May 11, 2010 12:45 PM
Post a comment