« Death of Big Bird: Work-life balance is no longer Cool. | Main | If your U.S. client trades abroad, the UCC won't always give you the answer. »
August 01, 2010
Redux: Andy Grove on U.S. jobs: "Rebuild our industrial commons".
At Bloomberg, see Grove's truly maverick "How to Make an American Job Before It's Too Late". Three excerpts:
[P]lowing capital into young companies that build their factories elsewhere will continue to yield a bad return in terms of American jobs.

We should develop a system of financial incentives: Levy an extra tax on the product of offshored labor. (If the result is a trade war, treat it like other wars -- fight to win.) Keep that money separate. Deposit it in the coffers of what we might call the Scaling Bank of the U.S. and make these sums available to companies that will scale their American operations.

Such a system would be a daily reminder that while pursuing our company goals, all of us in business have a responsibility to maintain the industrial base on which we depend and the society whose adaptability--and stability--we may have taken for granted.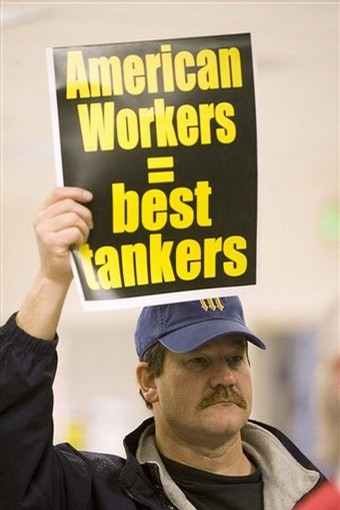 Agreed. But will this be true in 20 years?
Posted by JD Hull at August 1, 2010 12:28 AM
Comments
it sounds like fcuking insanity
put industry on taxpayer welfare, hell we've done it with banks and agriculture and the car industry, to hell with the ordinary consumer getting a good deal, tax them to support managers and business models that are redundant! bin all that crap about free markets and competition, hey and you what would look good? a hammer and sickle on the flag
anything, just so long the real world does not apply in the boardroom
Posted by: Duncan King at July 5, 2010 08:05 AM
Ordinary consumers don't build anything; no one owes them a "good deal"--just a fair one. Grove already has built something. Grove's ideas make some sense if seen as "emergency" or short-term protectionism. Do either the Scots or your Scotch have some better designs?
Posted by: Hull at July 5, 2010 03:34 PM
first off, you have an inherent moral hazard "former intel boss says give taxpayer money to intel and sundry similar companies and everything will be fine", loving that one.
then we have this
'emergency' or 'short term protectionism'
translation - we can't think of a solution right now so let's kick it into the long grass and hope really hard it goes away, setting aside the old riddle of "hope in one hand and take a dump in the other and see which hand fills up faster"
protectionism, or changing the rules mid game to help ourselves, might stop a decline for a while, but it isn't going to actually fix anything.
The problem is a country (the US and UK are both guilty of this) that churns out worthless media studies graduates and only values a handful of it's top professionals, the bankers, big law types the odd accountant. People who make things are not as valued. Which is a monumental mistake. Just look how things turned out for Imperial Spain, got lots of gold from south America made itself rich, built nothing and got hammered by industrious inventive Britain and the Netherlands.
I don't know what the solution is, I know throwing up some tarrifs isn't going to solve anything, you're smarter than me if you don't know we really are buggered.
especially since this problem is on the cards for lawyers, companies moving to put a few firms on panel and then online e auction tendering for best price piece by piece on work. Already expanding in litigation and that takes some actual thought and reasoning. There is going to be hell to pay the first smart indian kid who figures out all he needs is a PLC subscription and some limited liability to undercut the robots doing transactions.
Posted by: Duncan King at July 5, 2010 04:50 PM
I agree with with your first point--Andy Grove "says" isn't enough. But he's got little to gain or lose from making the suggestion. So I'll listen.
Second, no one model works. So we experiment; we mix and match. We do something--not just talk about it. Attitude: it's more important than facts, logic, or all Adam Smiths singing in harmony.
Finally, pick a plan--but have others in reserve. Pull the trigger. If you fail, you fail--but you learn. In the US, it's totally okay not to know the answer. The only sins are delay or to never even shoot. Europe and the UK can help us all pause and analyze--but it's not serving you folks well, either, when, as now, you run out of time.
Posted by: Hull at July 5, 2010 08:26 PM
JD
piece by Grove was a great find.
Duncan needs to read Charlie Munger, a lot
Posted by: John Davidson at July 7, 2010 04:07 PM
Posted by: Duncan King at September 22, 2010 04:27 PM
Post a comment
Thanks for signing in, . Now you can comment. (sign out)
(If you haven't left a comment here before, you may need to be approved by the site owner before your comment will appear. Until then, it won't appear on the entry. Thanks for waiting.)