« Hermann the German: Tucson, Guns and Sarah Palin. | Main | Rule Three: Ensure Everyone Knows That The Client Is The Main Event. »
January 17, 2011
My Marrakesh: No "Ordinary Life".
...don't live an ordinary life--anyone can do that. Be brave. Live a life filled with adventure.
It's short. Don't divert its natural exciting course with cookie-cutter moves--followed by years of regretful reveries and those awful "what ifs". In a popular movie of the 1970s, Ruth Gordon, a wonderful writer and actress, quipped in character to a young man named Harold 60 years her junior: "If you don't go out there and try, young man, you won't have much to talk about in the locker room".
Gordon, in that movie, and in real life, played a dame, advisor, teacher, elder seer. Grande Dame. Great Lady.
Ah, Great Ladies. I had two very strong, vibrant grandmothers. Each urged authenticity and drive in all things. Each had very strong children: my parents. My grandmothers even greatly liked each other. Both were well-traveled, well-educated and well-read. Both had long lives. One died very recently, and the other when I was a senior in high school. The two are always in my head; I still seek them out.
Great Ladies are still around if you look hard enough. But we know that a certain breed of them--the ones with lives that straddle the mind-numbing changes of the last 80 to 100 years--are vanishing every day. Our peripatetic friend Maryam had at least one of her grandmothers taken from the same inspired and celestial fabric as mine. Do visit today's My Marrakesh and "Essaouira: And a Tale of Jean and a Life Filled with Adventure". Don't be envious what you read there. But do change your life, if you need to.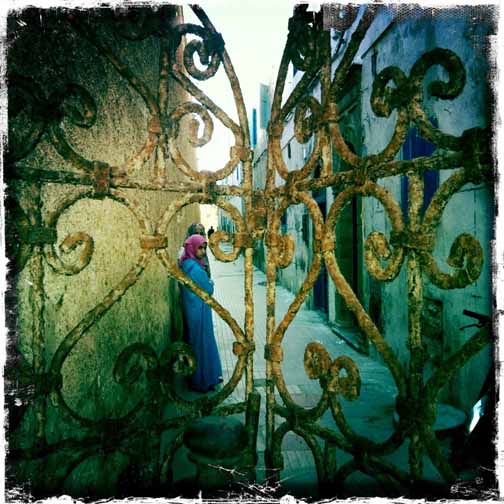 Photo by Maryam
Posted by JD Hull at January 17, 2011 11:59 PM
Comments
Post a comment