« Martin Luther King Day: BR #294 by A Public Defender, "Gideon". | Main | My Marrakesh: No "Ordinary Life". »
January 17, 2011
Hermann the German: Tucson, Guns and Sarah Palin.
The New Congressional Redistricting in the Wild West. Probably not. So we always listen to the Berlin-based Hermann the German at Observing Hermann for one possible German reality check on America. He even speaks English. Writes it. Seems to likes tall blondes named Greta, Rolanda and Sigfreda. And Hermann's right a lot, friends. See his "Sarah Palin?"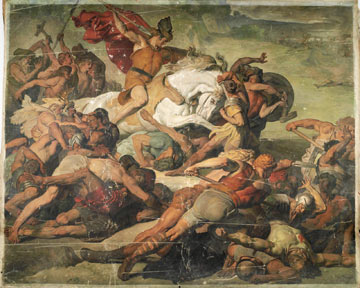 Above: "Hermann's Triumph at Teutoburg Forest", Johann Janssen (1870-73). Another Hermann the German, or Arminius, in September of 9 AD, trouncing Roman legions. What? You're a proud Western professional, businessperson or leader? You don't know about Arminius? Then finish your education. Or at least start one.
Posted by Holden Oliver (Kitzbühel Desk) at January 17, 2011 03:05 PM
Comments
Post a comment
Thanks for signing in, . Now you can comment. (sign out)
(If you haven't left a comment here before, you may need to be approved by the site owner before your comment will appear. Until then, it won't appear on the entry. Thanks for waiting.)