« How should you really handle "Difficult People" and "A-Holes" at Work? | Main | Confucius Said: Un-Friend Lames. Un-Follow Beavis/Butthead. Surround Yourself with Equals or Betters. »
April 01, 2011
Looking Back at Women's History Month: Interview with Jack Nicholson.
The third and final installment--Hour Three--of Dan Hull's recent 3-hour podcast with Jack Nicholson airs on Wednesday, April 6 at 12:00 noon EST on this blog. In Hour Three, hear Jack and Dan discuss "Problems Women Will Always Have".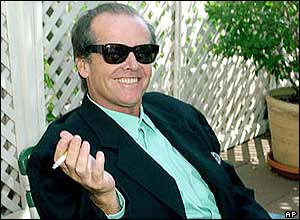 "Jesus Christ, Holden, we could have done this whole thing over at Sheen's place, if you know what I mean."
Posted by Holden Oliver (Kitzbühel Desk) at April 1, 2011 11:59 PM
Comments
Post a comment