« Looking Back at Women's History Month: Interview with Jack Nicholson. | Main | Overheard in Brentwood. »
April 03, 2011
Confucius Said: Un-Friend Lames. Un-Follow Beavis/Butthead. Surround Yourself with Equals or Betters.
Have no friends not equal to yourself.

-- Confucius (551 BC–479 BC)
The unproductive Age of PC Nice of the last several decades is Over. Get a better standard. True, the virtues of Warmth, Charity and Civility are always important--and always will be. But Growth tops all three. And to grow, you'll need new skin. Hang with equals--and if at all possible with your "betters".
Learn more. Challenge yourself. Stop surrounding yourself and your employees with people who merely make you and yours feel "comfortable". And maybe even feel superior.
Un-friend and un-follow the "not growing" on your Social Media accounts: LinkedIn, Facebook, Twitter. Dump bad clients. Phase out bad GCs.
Give marginal employees the old Heave-Ho. Fire bad employees. Do it now. Stretch yourself. Save your firm.
Play tennis with people who rarely double fault--but the ones with first serves which (at first) you can barely even see.
Grow. Advance. Get further down the road. It's either you or them, Jack. Sure, be "Nice". But do save yourself. Don't let people lacking your energy and drive hold you or yours back.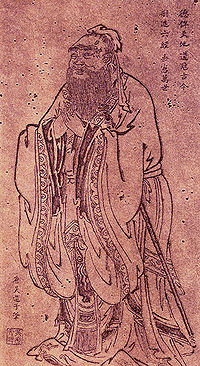 Confucius, by Wu Daozi (680–740)
Posted by JD Hull at April 3, 2011 11:03 PM
Comments
Post a comment