« Washington, DC: It Never Lost Its Glow For Me. Not Once. | Main | Today, Yesterday, Los Angeles: Pitches, Dreams, Log Lines, Drive & Money. »
July 19, 2011
Speaking of Lafayette Park: Rep. Daniel Sickles was a Far-Out Mother.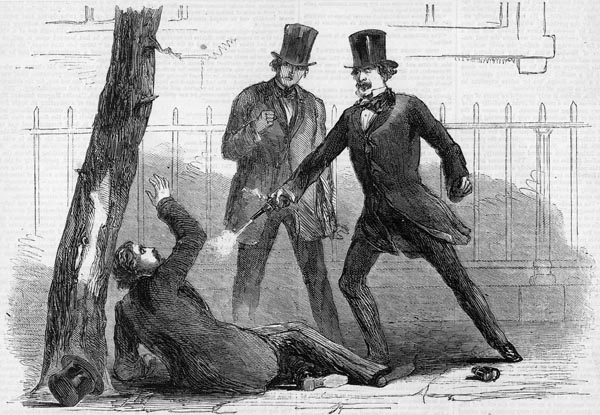 In 1859, in Lafayette Park, U.S. Representative Daniel Sickles shot and killed fellow lawyer Philip Barton Key II, son of Francis Scott Key. Sickles was a talented, ambitious, somewhat shady and philandering Manhattan politician who counted President Lincoln among his many friends. He discovered that Key was having an affair with Sickles's young yet long-neglected wife, Teresa. During his life, Sickles made American foreign policy, helped create New York's Central Park, had a hand in the development of the modern insanity defense, and was a celebrated if controversial Union Army field general. The best book on Sickle's amazing, checkered and long public life is Thomas Keneally's American Scoundrel: The Life of the Notorious Civil War General Dan Sickles.
Posted by JD Hull at July 19, 2011 07:15 PM
Comments
Some of history's most interesting men were far from black and white. There's a bit of both in everyone, it seems.
Posted by: Joe at July 18, 2011 09:57 PM
Post a comment