« Sensitive Litigation Moment No. 114: In planning depositions, resist The Uninspired, The Lazy & The Half-Baked. | Main | One Night/One Person: Winter 2022 Edition. »
March 23, 2022
Ralph Waldo Emerson: Get to know his City of Man.
To us, in our lapsed estate, resting, not advancing, resisting, not cooperating with the divine expansion, this growth comes by shocks. We cannot part with our friends. We cannot let our angels go. We do not see that they only go out that archangels may come in. We are idolaters of the Old. We do not believe in the riches of the soul, in its proper eternity and omnipresence. We do not believe there is any force in today to rival or recreate that beautiful yesterday.
We linger in the ruins of the old tent.
--Ralph Waldo Emerson (1803-1882): Essays, First Series, "Compensation" (1841)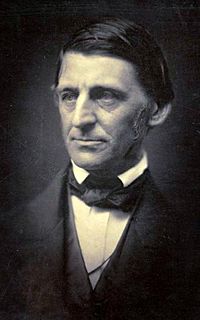 Emerson, 1857
Posted by Holden Oliver (Kitzbühel Desk) at March 23, 2022 11:59 PM
Comments
Post a comment