« Say it ain't so, Scott Greenfield. | Main | Double Secret "3-Way" Talks: Yanks, Afghans and Taliban? »
February 15, 2012
Besides, who else at your shop can make floral vests, khakis and wing tips work?
Just kidding. Old Boomers at WAC/P? continue to evolve. So please visit Schumpeter at The Economist and his/her excellent "Of Companies and Closets: Being Gay-Friendly is Cheap and Good for Business", a gem we missed published four days ago. Eye-opening, timely, brave and very well done. Excerpt:
The Human Rights Campaign (HRC), an American pressure group, measures corporate policies towards sexual minorities in its annual "equality index". Of the 636 companies that responded to its survey this year, 64% offer the same medical benefits for same-sex partners as for heterosexual spouses. Some 30% scored a fabulous 100% on the group's index.

Progress has taken place in a wide range of industries. The 100% club predictably contains plenty of talent-driven outfits such as banks and consultancies (including Mitt Romney's old employer, Bain & Company). But it also includes industrial giants such as Alcoa, Dow Chemical, Ford, Owens Corning and Raytheon.

Lord Browne, the boss of BP who resigned after his sex life made headlines in 2007, said he always remained in the closet because "it was obvious to me that it was simply unacceptable to be gay in business, and most definitely the oil business." Today Chevron, one of BP's toughest competitors, has a 100% rating.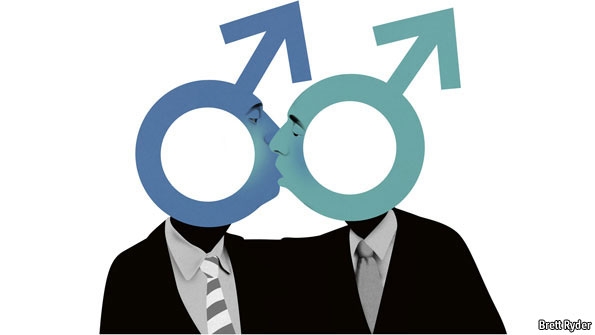 Graphic: The Economist/Brett Ryder
Posted by JD Hull at February 15, 2012 11:55 PM
Comments
Post a comment
Thanks for signing in, . Now you can comment. (sign out)
(If you haven't left a comment here before, you may need to be approved by the site owner before your comment will appear. Until then, it won't appear on the entry. Thanks for waiting.)