« Besides, who else at your shop can make floral vests, khakis and wing tips work? | Main | Overheard in Venice: Turn off phones/computers 2 hours a day. »
February 17, 2012
Double Secret "3-Way" Talks: Yanks, Afghans and Taliban?
With Kabul and Washington pushing for peace talks, Pakistan is regarded by both capitals as a major obstacle in the process. Afghan and American officials maintain that Pakistan's intelligence community continues to actively support Afghan Taliban insurgents.
"Taliban" always sounded to us like name of a Western child's toy--but it is anything but. And the Taliban, which the current Afghanistan president Hamid Karzai seeks to engage in talks, appears to have played this one expertly. It's clear that Taliban leaders based in both Afghanistan and Pakistan will negotiate with the West--but it seems extremely unlikely to us that anyone (except the U.S.) wants or needs to talk to President Karzai, a decent and smart human and snazzy dresser who is also a major tool. The Taliban laughs the guy off. See the Los Angeles Times today: "Afghan leader Hamid Karzai seeks Pakistan help in Taliban talks".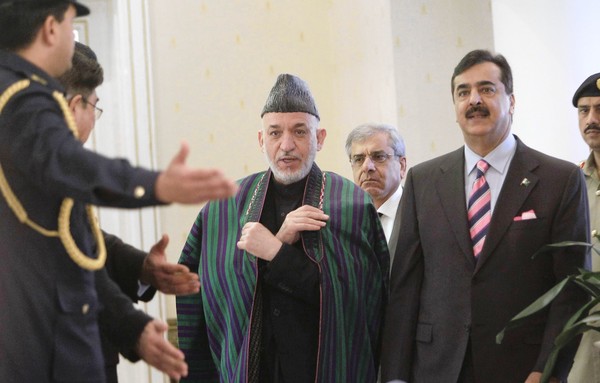 On the Good Foot: Last night in Islamabad, Afghan President Hamid Karzai and Pakistani Prime Minister Yousuf Raza Gilani get ready to hit a few bars, discos and clubs, tip a few and pretend that Karzai has a real job. (B.K. Bangash/Associated Press)
Posted by JD Hull at February 17, 2012 06:47 PM
Comments
Post a comment
Thanks for signing in, . Now you can comment. (sign out)
(If you haven't left a comment here before, you may need to be approved by the site owner before your comment will appear. Until then, it won't appear on the entry. Thanks for waiting.)