« A Proposal For Cold City Nights: "One Night, One Person". | Main | A Southern Town No More: Washington, D.C. »
March 07, 2015
Report on Inaugural "One Night, One Person": Thank you, a few good Yuppies--and there is lots more work to do.
Thank you, a few good Yuppies.
Let's do it again. Soon. With more people. With more soul.
Happy to hear that a few of you in the larger American northeastern cities--23-year-old GenY/Slackoisies at Boston offices of big consulting firms to late-60ish hard-driving Baby Boomer law firm partners in DC and Chicago who will die happy at their desks--participated in "One Night, One Person" in anticipation of the very cold last two nights (March 5 and 6). See our christening post last week, A Proposal For Cold City Nights: "One Night, One Person", which attracted a very respectable number of hits, by the way.
Nicely done. But we can do better than "a few". The bitter cold forecasted for the nights of March 5th and 6th hung on in some of the affected cities. In Washington, D.C. this fine bright morning it's 27 degrees at 11:15 AM. And certainly we can expect more cold nights before Spring finally takes over--so we have time and opportunity for you to get your "white collar angel" thing on and pick out a street sleeper to help. We can practice a little. Also: my guess is that some of you have problems engaging strangers anyway--not in your nature--and that chatting up street people is a pretty advanced exercise for a novice. Try it anyway. Take someone with you or whatever. Or I can help you with it if you ask. Just call. Below, and for your convenience, is ONOP in a nutshell and its four steps:
Whether you live in the suburbs or in a downtown neighborhood, if you work during the day in downtown areas of American cities with cold climate winters and significant homeless populations, go forth and do this:
1. Pick out and ask a homeless woman or man what articles of warm clothing she or he needs that you already have at home or in storage--thermal gloves, wool scarfs, warm hats and beanies, big sweaters, winter coats, thermal underwear, socks, etc. Ask just one person at a time.
2. Agree on a time to meet (preferably at the same place) later that day or the next day.
3. Find the winter stuff you have at home or in storage.
4. Bring said stuff to the homeless woman or man as agreed. Nine out of ten times, your new friend will be there when you show up.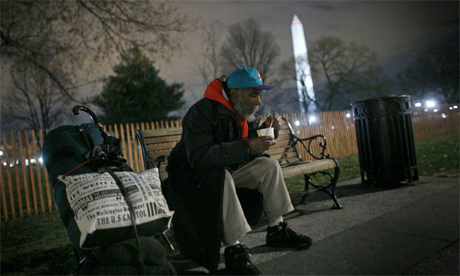 Posted by JD Hull at March 7, 2015 09:36 AM
Comments
Post a comment
Thanks for signing in, . Now you can comment. (sign out)
(If you haven't left a comment here before, you may need to be approved by the site owner before your comment will appear. Until then, it won't appear on the entry. Thanks for waiting.)