« See this extraordinary film. | Main | Justin, exactly how would you like us to train you? »
March 18, 2015
Round 2: "One Night, One Person".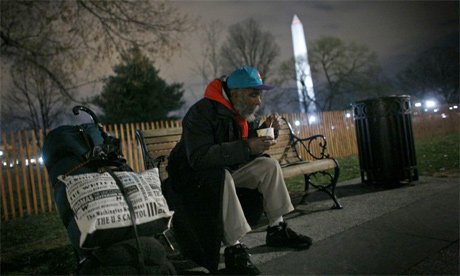 Lots of us who work somewhere "downtown" during the day have a chance to participate in Round 2 of "One Night, One Person". See our March 5 and March 7 posts. Over the next 10 days, temperatures in virtually all of the Northeastern and Midwestern Yuppie-laden cities will hit freezing or well below, especially in Boston, Cleveland, Detroit and NYC. Others like Chicago, DC, Indianapolis, Columbus and Wilmington will approach or hit freezing. The "rules" here are simple. And intuitive. You find out--and you do this in person--exactly who on the streets needs warm wraps a night or two before they will really need it, and get that stuff to them directly within, say, 24 hours. Oh, and you may need to check weather forecasts in your cities. Cold winter nights are back for a while. For some, your excess winter clothing--and believe me, you have some--could certainly lessen what can only be described as suffering and even save a life. How much fleecy stuff from The North Face do you need to keep around the house anyway?
Here again are "rules" from our March 7 post:
1. Pick out and ask a homeless woman or man what articles of warm clothing she or he needs that you already have at home or in storage, for examples thermal gloves, wool scarfs, warm hats and beanies, big sweaters, winter coats, thermal underwear, socks, etc. Ask just one person at a time.
2. Agree on a time to meet (preferably at the same place) later that day or the next day.
3. Find the winter stuff you have at home or in storage.
4. Bring said stuff to the homeless woman or man as agreed. Nine out of ten times, your new friend will be there when you show up.
Posted by JD Hull at March 18, 2015 08:21 AM
Comments
Post a comment