« Blawg Review #183: California gets serious. | Main | Jim Hassett: "Don't stop." »
October 29, 2008
Special Report from The Desert.
As I was saying, earlier this week I was in The California Desert--stalked by Death, Destruction and a monthly Smith Barney report nasty enough to put Pollyanna on Lithium for a year--and waiting for a vision to deliver us all. What I received was so pedestrian and simple that the rapture almost killed me. This Guy, a gardener with the Two Bunch Palms resort, and named Raphael, comes up to me and says:
1. Focus on existing clients, and on their current projects.
2. Stay friendly with GCs, client reps, influential people and "referrers" that you already know.
3. "Network" for brand new clients and contacts later, Dork. Now is not the time.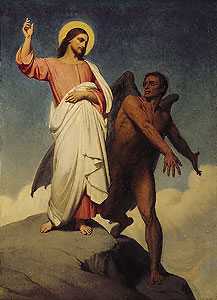 (Left to right:) Raphael and WAC? in The Desert.

Posted by JD Hull at October 29, 2008 11:59 PM
Comments
Hey, that's Me--not Raphael--in an 1854 painting by Ary Scheffer. I was there for almost 6 weeks, not a long weekend, Dork.
Posted by: JC at October 29, 2008 03:03 PM
Post a comment