« Staffs that work. | Main | Baby, We Were Born To Eat. »
January 31, 2009
The Real Paris
Lots of large international cities have mimes, street people and street theater. But if you live for a long while in DC or Paris, and then you move, you sense something special is missing. You don't know what. One day you're at lunch and you think: "Wait a minute. There's not even one demonstration every day in downtown Louisville?" See at ParisDailyPhoto "Capitalism: The French Nightmare" via The Paris Blog. Eric of ParisDailyPhoto writes:
There were several big demonstrations in France today and the largest one, as always, took place in Paris. It ended up at the Opera house where I took this photo. I thought it was pretty funny to take an anti-capitalist billboard in front of two shiny adverts for Rolex and Commerzbank in the background! FYI, the billboard roughly says: 'Unrestricted capitalism equals people in danger'.


That's what I'm talking about.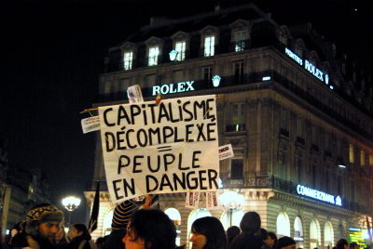 ParisDailyPhoto
Posted by JD Hull at January 31, 2009 11:59 PM
Comments
I am so happy that you included DC and Paris in the same breath. And now, I add Berlin to this list. Always 'manifestations' as well, which isn't the German word. My next city: Paris? What all my mates HATE in Paris, I love. Thanks for this!
Posted by: Chris Abraham at January 31, 2009 08:50 AM
Nothing beats Paris for edginess and playfulness mixed together just right. Nothing like it.
Posted by: Hull at January 31, 2009 08:41 PM
Post a comment
Thanks for signing in, . Now you can comment. (sign out)
(If you haven't left a comment here before, you may need to be approved by the site owner before your comment will appear. Until then, it won't appear on the entry. Thanks for waiting.)