« The Real Paris | Main | Brit King of Media interviews California ADR Vixen. »
February 02, 2009
Baby, We Were Born To Eat.
Super Bowl Halftime: Can we have the Kinks, Sting, Bono or B.B. King next year? Despite the hopelessness and self-pity in much of his lyrics--even in the unique rock anthem "Born To Run"--Bruce Springsteen is and always been an inspiring man, with a fine and authentic band. He inspired a whole generation of kids from certain New Jersey counties to eat, drink, watch MTV and totally give up on life with his "hey, there's nobility in being a turd and a loser" message.
We're kidding, well, a little. We do love seeing Clarence, and multi-talented Little Stevie. We admire the New Jersey spirit. But could a Super Bowl halftime show be worse? Nothing sounded very inspiring to us. And Bruce, you're pushing sixty but you're still a rock star. So, dude, get on a program. Ask Mick Jagger. Eat some carrots or something. Try 24-Hour-Fitness. And make Stevie sign up, too. We've seen the future and it's a slimmed down E Street Band.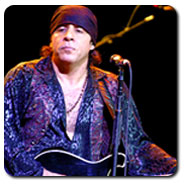 Hey Stevie, easy on the canoles, dude.
Posted by Holden Oliver (Kitzbühel Desk) at February 2, 2009 12:59 AM
Comments
Post a comment
Thanks for signing in, . Now you can comment. (sign out)
(If you haven't left a comment here before, you may need to be approved by the site owner before your comment will appear. Until then, it won't appear on the entry. Thanks for waiting.)