« Germany's Alien, UFO and Daily Strangeness Problem. | Main | Don't compete on price, now or any other time. »
February 09, 2009
Watching Legal Blog Watch, Blawg Review, and four more.
...all ye know on earth, and all ye need to know.

(JK, 1819)
WAC? likes to "review" Blawg Review each week--but lately we've been too busy to do it right. We missed a few, and at least the internal weekly deadline (i.e., "do something on Blawg Review by Wednesday") we've been blowing isn't a jurisdictional one. We hope somehow to get to the ones we missed. Certainly, Blawg Review's weekly aggregation of the best posts doesn't become stale.
In the meantime, we have advice for this blog's readers, which according to our sitemeter are in four groups, likely overlapping: people from (1) large cities, (2) large firms and (3) "civilized" nations in western Europe, and finally (4) Gen-Y lawyers at larger firms who intensely dislike WAC? and Holden Oliver on "associate" and "work-life balance" issues, or anyone who vaguely looks or sounds like him. Intensely enough, in fact, that some comments and e-mails we get on Holden's "State of the Slackoiesie" essays are so spectacularly vile that we can't even edit them. (If nothing else, the Young, the Lost and the Lazy possess both the focus and the demented energies to type a mean misspelled blue streak about why they are Victims of the Boomer Era.)
Anyway, to all four groups, here's a suggestion:
The Big Six lawyer sites to read. Since you are busy and, like us, self-important, you really should read or at least skim six (6) lawyer sites--all of these technically qualify as "blogs"--every week. All six are must reading. The first one, and for us The King, is Legal Blog Watch, last week's Blawg Review host of No. 197, and one of the few sites for lawyers that always delivers. This past week LBW hosted from the LegalTech show in NYC. And then there's Blawg Review itself, consistently a phenomenon, and a labor of love, by Ed. and his talented "Sherpas", a Boston ADR specialist we respect, and a West Coast-based in-house counsel with dual Brit-Yank citizenship who writes as well as Flaubert when he's in the right goddamn mood. We think Legal Blog Watch and Blawg Review cover, quickly and comprehensively, what's happening in American and global legal markets for (A) news and (B) new ideas. Subscribe to each, and you'll get both.
The other four sites that supplement these two, and do the same thing if slightly less comprehensively? They are: newcomer and often visionary Law21 of Canada, the analytical Adam Smith, the enormously popular ear-to-ground Above The Law and WSJ's Law Blog.
That's it. All you need to read and know. Read no further--unless you want extra credit.
Practicing Lawyers Who Get It, Write About It. There are lots of other fine sites for lawyers and business people. Here are our favorites. At Simple Justice, Scott Greenfield is smart, funny and brave. As rich, famous and handsome as Scott is, however, he's still a fancy busy working trial lawyer. So NYC's driven Greenfield, co-founder of the WAC? Value Movement, can't do everything to lead us to the top of the mountain. Ray Ward at Minor Wisdom, another practicing lawyer, is like WAC? a product of the traditional large law firm culture and school for old boys--where we assume with absolutely no evidence that for years you could say "secretary", "stewardess", and "chairman" without being investigated by the EEOC, National Public Radio and Anita Hill. WAC? has some serious and fatal Southern DNA, and so we do like Ray, as well as his lyrical well-roundedness. However, and like the blawgosphere's spiritual leader David Giacalone at f/k/a...--David is the only sensitive guy we ever liked even a little bit--Ray keeps both his talent and his soul. These three lawyers can think, feel and write.
A few others beyond the Big Six get your juices flowing. California's Craig Williams has consistently set a high standard for legal journalism at his May It Please the Court. Feisty Kevin O'Keefe at Real Lawyers Have Blogs, possibly separated from WAC? at birth, is a hard-headed evangelist for legal blogging, and it turns out he was right after all. Even feistier, and tragically not even Irish, Dan Harris at China Law Blog is wise, practical and prolific. Finally, out of London, Charon QC, and GeekLawyer--when GL is not locked up for his own good at Suffolk's Big Dog Country Care Farm in Hadleigh by worried barrister colleagues at Lincoln's Inn--each have done very different but amazing things for global legal writing. Note: GL works as hard as ever at winning that elusive 30-day chip, as he has been doing since the mid-1980s. Next time he's in the U.S., we'll take him to a meeting. He'd like the one in Georgetown near the corner of Wisconsin and P.
At What About Clients?/What About Paris? we earnestly peddle a few important gospels: real client service, the employer's "entitlements", the Value Movement, sane legal writing, the horror of becoming unhappy law cattle, working internationally in a muscle boutique, and "punching above your weight" for fun and profit. We also seek comic relief from work. We write when inspired on the fly in between urgencies, but we do try to get lawyers to be leaders and Renaissance humans again in the new world. But clients come first; that's not a gimmick. So like you, we need all the news--and new ideas--we can get quickly and efficiently. Like you, we don't have time to screw around.
The Big Six must-reading lawyer sites listed above can do that work for you. The "rest of us" you read for extra credit.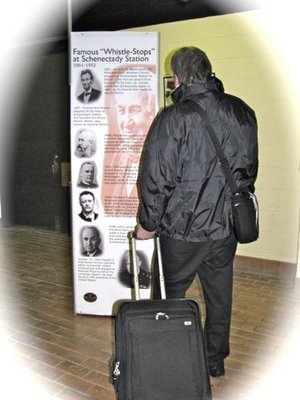 Blawg Review's founder-editor "Ed." The Big Six have your back.

Posted by JD Hull at February 9, 2009 12:59 AM
Comments
Dan... a compliment indeed - and appreciated. I'm looking forward to the 100! We talk this week!
Posted by: Charon QC at February 8, 2009 04:32 PM
Let me second that motion. Dan, you've placed me in incredibly good company here, finer than I would think to merit, and I'm enormously grateful for the compliment.
Posted by: Jordan Furlong at February 8, 2009 04:58 PM
Thanks for the compliment Dan, means a lot coming from someone who's been a pioneer in blogging. Good suggestions to follow as well, just elevated a couple of your suggested follows to the top of my feeds in my RSS reader.
Posted by: Kevin OKeefe at February 8, 2009 05:02 PM
Dan: Thanks (again) for yet more kind words and yet another plug. I have no idea what I'm doing with "Minor Wisdom," but I'm glad a few people like it.
Posted by: Ray Ward at February 8, 2009 08:50 PM
Dan, there are few bloggers whose respect matters more to me than yours, and I thank you for the kind words. However, I fear I must correct you. I retired from Blawg Review sherpa duties late last year and hung up my pack, but not before finding able replacement in Vickie Pynchon, who blogs at Settle It Now.
I am proud to have served as a member of team Blawg Review, and I join you in applauding Ed., his magnificent sherpas, and the bloggers who volunteer each week to play host. They stand as an enduring example of what bloggers can achieve when they band together.
Thanks again, Dan. I do appreciate it.
Posted by: Diane Levin at February 9, 2009 09:14 AM
Dan,
Thank you so much for including LBW in this esteemed company - it is much appreciated. Of course, perhaps is the only complaint that you'll receive about this list is that it doesn't include WAC.
Carolyn

Posted by: Carolyn Elefant at February 9, 2009 09:56 PM
Dan,
Hell, I can't rite - I can't even tipe. What am I doing in this list of luminaries? Seriously, though, like everyone else, thanks for the compliment. It's likewise a pleasure to read your blog and learn from your steadfast benchmark of quality writing and focus. Keep up the good work.
Craig
Posted by: J. Craig Williams at March 11, 2009 02:21 AM
Thanks for putting me in such esteemed company, but you have your facts wrong. O'Keefe is actually feistier than me....Anyone with that many kids has to be....
Posted by: Dan Harris at April 19, 2009 04:31 PM
Post a comment